---
20% OFF sitewide


Coupon : $10 of $100+
Coupon : $15 of $150+
---
20% Off $99+


athleta line promo code : FRESH20

---
$15 off $150


Athleta promo code : 15SUMMER

---
Save $5 Off on Orders Over $75


Athleta promo code : SOLSTICE5

---
$5 off $75


Athleta promo code : 15SUMMER

---
Save $5 Off on Orders Over $75


Athleta promo code : SOLSTICE5

---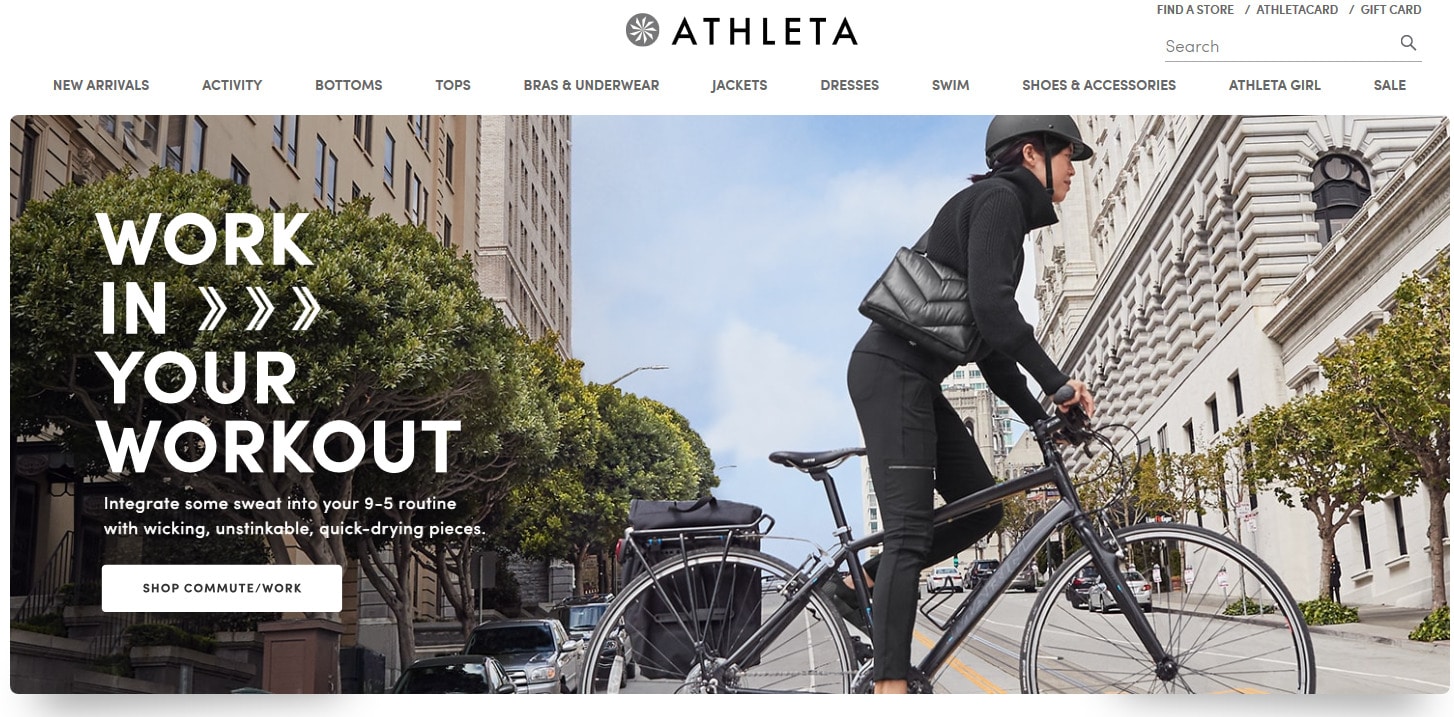 Athleta.com: The Antidote to L.L. Bean and Victoria's Secret
I like L. L. Bean, purveyor of high-quality outdoor stuff for over a century, just fine. I like Victoria's Secret, too. Those perennial "5 for $25" pantie offers are the best.
But, when I'm searching for fabulous active, casual and beach wear neither of these sites fits me. I'm not trying to be an extreme lumberjack-ess or a sleepy, slutty siren. I want my yoga pants and bathing suit to be functional and high quality. I also want them to be attractive and sexy in a vital, happy, zazz-for-life way.
At Athleta.com I am home. The fresh, clean, site shows me a fantastic array of sport, swim, tops, jackets, dresses and accessories in a really appealing, believable context. Sure, the models are all super-human, awe-inspiring, beautiful specimens, but rather than promote subversive envy, the site cultivates delicious admiration. I want to be their friend, not because I need to keep up with them, but because they radiate the feeling for life that I appreciate. I really believe these women are playing volleyball on a beach or strolling the sidewalk of a cute little town somewhere. I want to do that stuff with them!
The product line display is straightforward and uncluttered with plenty of detail. Options for scrolling, magnifying and different views are there. Styles are modern, mostly simple and casual,and range widely from cool athletic to sweet boho with much in-between. The site has a true quality vibe to it. For athletes, and those who want to be, every category is covered: run, yoga & studio, hike, golf & tennis and gym & training. The "Special Sizes" pages focused on tall, plus, petite and maternity are appreciated.
Overall product selection is immense with a lot of cross-coordination. Click on "bottoms", then select among skorts, capris, shorts, pants, skirts and tights. Collections have names like "Trekkie" for those "seeking adventure" and featuring items made from "lightweight, textured rip-stop fabric…for off-road exploration". This site makes you want to get out there because you are going to look so cute and feel so good doing it!
The "Chi Blog" page brings a nice extension to the website. The page is subtitled "Fuel for a life in motion" and features items on "home, fitness, style and wellness". The posts are varied, relevant, informative, inspiring and fun. Checking into this page adds value to the shopping experience at Athleta.com.

3 Reasons to buy at http://athleta.gap.com
What if someone told you about a special place, a veritable kingdom that celebrates all that is woman – whether it is the athlete, outdoor-minded, or simply the beautiful embodiment of the free spirited female, wouldn't you want to visit? Now you can, without even leaving your home, because that's exactly whathttp://athleta.gap.com is.
Drawing on inspiration from the combination of magic, youth, and the art that is Venus-inspired, athleta.gap.com can help anyone live in the moment while looking chic and sporty, all at the same time. Looking to recapture youth? Let athleta.gap.com's athletic couture collections, which have been gathered from some of the very best designers within the athletic fashion industry, help you to look and feel young and free. Combining form and function is what they do — and they do it very well!
The first thing you'll want to visit on athleta.gap.com is the WHAT'S NEW tab. If anyone understands and appreciates the importance of detail, it's athleta.gap.com. So extensive is their collection, you'll find yourself returning to the site, so as not to miss the latest exciting fashions.From their FEATURES tab, click on headings such as New Arrivals, Radical Nautical, or City Pant Looks, athleta.gap.com showcases their instantly recognizable sense of chic, arranged in easily searchable images, so pleasing to the eye that you'll have trouble deciding what to order first.
Most of the screen pages feature a selector guide, an interactive selector allowing you to choose style, color, and price. So generous is their extensive collections, you may find yourself using the selector guide to help sort out your purchases.
Don't forget to check out the new arrivals feature (just under WHAT'S NEW). This is the place where you can sign up for emails, product launches, catalogues, and more. In addition, athleta.gap.compresents a veritable buffet for the eye, displaying not just athletic wear, but action wear to showcase the female body; never before has her power and look been so varied, so natural and so liberated — thank you athleta.gap.com!

The SWIM tab pulls up pages of swim wear for every arena of countless summer time dreams. Their newest collection can't be categorized – it's both infinite and universal, while at the same time, allowing the individual to select something which is personal and reflective of her spirit. The bottom of this web page is called, COMPLETE YOUR LOOK, for obvious reasons. Need a flirty skirt, a cute jacket, or just a matching bag? No worries here.
The SPORT tab showcases categories to include yoga, running, dance, training, surfing, tennis… you name it – if it is a sport, athleta.gap.comappreciates it, understands it, and most importantly, dresses it.
One of the best reasons to shop here is of course, the wide and varied selection. If you can't find what you are looking for here, then it doesn't exist. From the quietly fashionable to the overtly flattering, the female athlete is the center of the universe at athleta.gap.com.
They have a very liberal return policy, clearly stated, "Give It A Workout Guarantee: If it doesn't perform, return it for FREE." No gimmicks – if you don't like it, return it without, hassle free.
The all-time favorite reason for shopping with athleta.gap.comis the SALE tab, because it's like having a separate store within the website. This mini store is divided into: New Markdowns, Swim, Tops, Sweaters, Jackets, Pants, Capris, and Dresses. Not only are these items discounted, but because they are part of Athleta's collection, they are trendy.
Not just a great online store, Athleta.Gap shops are located in all 50 states, as well as Washington, D.C. Their in store fitness classes, many of which are free, include group runs, special events, and workout events. Please visit your local store page often so as not to miss any of the exciting, upcoming activities!