Use This Free Printable Workout Log To Keep Track of Your Exercise and Fitness Training & Progress in the Gym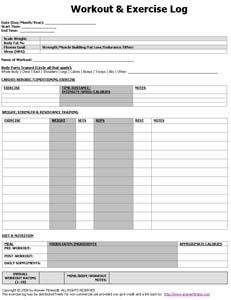 Keeping a regular workout log or exercise log sheet is one of the best ways to make sure that you are constantly making progress toward your fitness and exercise goals in the gym.
Regardless of your goals or fitness experience, recording your workouts, cardio, and weight training in a daily exercise log can help you make sure that you are always moving forward in beating your last workout, as well as let you identify possible sticking points in your training before you hit a wall or plateau.
As Ive mentioned before in previous articles, one of the seven habits of highly fit people is that they keep a log of their workouts and exercise to not only make sure they are always progressing, but also to hold themselves accountable. Writing down your daily exercise in a log makes you mindful of what you are doing and allows you to review your progress after each workout or training session. It also lets you build on each subsequent workout, so that you are always pushing yourself a little harder each time you hit the gym.
Why I Created This Free Workout Log
There are a number of free printable workout and exercise logs available on the Internet, as well as some excellent exercise logs that can be purchased at your local bookstore. However, after taking a look at the dozens of free blank exercise log sheets available on the web, I generally found that they didnt treat exercise holistically enough.
Most of the workout logs used the generic Exercise/Weight/Reps/Sets formatting, and didnt take into account other key factors that you need to keep track of, including rest periods, pre-and-post workout nutrition, training and fitness goals, sleep, duration of exercise and mind-body factors. All of these variables can impact your training performance and progress, regardless of whether you are a beginner or an advanced bodybuilder.
I also found that the formatting and visual presentation of most free printable workout logs left something to be desired. Having kept regular exercise logs for nearly five years, I know first hand the usability factors that can impact how easy it is for a person to consistently and effectively keep an exercise or workout log in a busy gym environment.
For example, most exercise logs (especially the ones purchased at bookstores) dont give you a enough room to quickly, legibly and thoroughly record your exercises, weight, sets, reps and rest (as well as additional related workout and training notes.)  This can be especially frustrating when you are trying to move quickly between sets and record your performance often with a shaky hand from the exercise you just performed.
Also, the lack of shading between items can make it difficult to quickly identify where you need to go on your workout log, eating up valuable time.
Finally, while some free printable workout and exercise logs are available in formats like Microsoft Word or Excel (which allows you to customize the workout ahead of time), they are not always available in easy-to-print formats like Adobe PDF.
A Better Free Workout and Exercise Log
Since necessity is the mother of invention, I decided to take a crack at developing my own blank exercise log that you can customize in Word, or simply use as-is and print-off.
Ive tried to take the best elements of the workout logs Ive seen online and at the bookstore, add in a few additional items that I think will be helpful, and create an easier-to-use, but more comprehensive workout log. Im also excited because I can use this log to create pre-built workout schedules to accompany the exercise and workout routines on Answer Fitness.
I also decided to create a separate weekly exercise summary log that you can use in conjunction with the daily workout log to track week-over-week progress.
In terms of the formatting of the workout log, Ive included areas for you to record:
the date of your workout
time started and finished
vital stats for the day like your scale weight and body fat percentage
how many hours of sleep you got the previous night
cardio and conditioning training
weight and resistance training
diet and nutrition info (specifically pre-workout and post-workout nutrition and any supplements you might be taking)
your overall workout rating on a scale of 1-10
Also, I tried to provide plenty of space for recording weight, sets, reps, rest period and especially training notes.
What I like about this printable workout log is that its very flexible, and will meet the needs of both beginners and advanced trainees and bodybuilders. I also was able to get it all on one sheet, which makes it more convenient to take along to the gym.
Finally, I attempted to make the workout and exercise log goal-focused and added in some small things like body parts trained, fitness goals and mind-body workout notes to get you there.
Ive also set the page up to use a standard 8 x 11 sheet of paper, which you can then hole-punch and place in a three-ring binder.
Is this the perfect workout and exercise log? Probably not. But its a first crack. Im looking forward to any feedback or additional ideas on how to improve it. Its a work in progress.
How To Use This Workout and Exercise Log
Choose which format you want the workout log to be. Ive provided Word, PDF and HTML.
If you want to customize the workout log so that it will contain pre-set workout routines, use the Word version, which will allow you to type the exercises into the blank workout log file. You can then pre-print the sheets for the upcoming week or for the duration of your training cycle with the particular workout plan. For example, if you are on my full body workout routine, you can go in and type in the exercises for each workout, so that you dont have to fill them in at the gym (or print off the routine from the website.)
If you just want to print off blank exercise logs and fill the details in at the gym, then youll want to use either the PDF version or HTML version of the log. If you are exercising daily, youll want to print off seven copies for the upcoming week, along with one copy of the weekly exercise summary.
You can either hole-punch the sheets ahead of time and put them in a binder to take to the gym or keep them in a folder (staple a weeks worth of workout logs together at the end of each week to keep your exercise and workout logs in order chronologically.)
Try to always bring your previous workout log sheets with you to the gym, since youll want to reference your last workouts in order to increase your weight, reps or sets each workout, which is critical to progressing in the gym. This is why a binder is ideal.
When you arrive at the gym and start your routine, make sure you fill in the date and time you begin your workout. Also, if you weighed yourself or took a body fat measurement, fill that in. Other items you can note on the daily workout log are your overall fitness goals for this workout cycle, as well as how much sleep you got the night before.
Circle the body parts you are training for the day, as well as any cardio you performed and your pre-workout meal and/or supplements.
As you perform each exercise, write down the name of the exercise and what equipment you used (i.e. chest press machine, dumbbell chest press, bench press, etc.)
Record the weight used, the reps performed and how long you rested between sets. Once youve completed an exercise, count up the sets you performed and record them in the sets column. Also, keep track of any additional information about your performance in the notes area. For example, note details like whether you felt unusually weak or strong during the exercise, any variations on the exercise that you might have performed or some words of congratulations if you have a great lift.
Once youve completed your training, note the time you stopped, give your workout an overall rating on a one-to-ten scale and make any additional notes about your performance.
Place the completed sheet in your binder or folder
Can I Offer This Workout Log On My Website or To My Clients?
If youd like to offer this printable workout log on your own website or if you are a personal trainer and want to use it with your clients, feel free to.
However, I do ask one thing: Please link directly to to this article and do not place the downloaded files on your website. If you are using it offline, please keep the credits intact on the workout log sheet and if you have a happen to have website, a link and credit to Answerfitness.com is appreciated.
How To Download Your Free Printable Workout Log
The daily workout log is offered in three versions, which you can download below:
The weekly exercise summary log is also available in three formats, which can be downloaded here:
Comments (51)