Think tortillas cant be healthy? Think again. Check out these high-fiber, low-fat, and low-carb tortillas from La Tortilla Factory and let the wrapping start.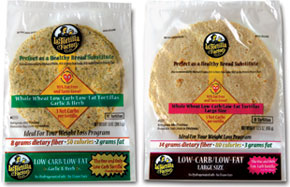 Mexican food doesnt have a great reputation as a health food. Mounds of cheese, heaps of sour cream, and deep fried tortillas may taste great, but aside from cheat days, they are usually off-limits to people who are trying to stay fit.
But it doesnt have to be that way.
Believe it or not, it ispossible to have your Mexican food and eat it too provided you know how to make some smart substitutions for some of the more fat or calorie-laden ingredients that make up your traditional Mexican fare.  Over the next couple of Fitness Food posts, well take a look at some ingredients you can use to create guilt-free Mexican meals that taste fantastic. Since the specific products may not always be available at your local grocery, Ill try to provide some commonly-available subsitutions whenever possible.
So lets start with your typical soft taco or burrito. Its all about the shell, but your average corn tortilla isnt going to win any awards as a fitness food.  A single corn tortilla has around 52 calories, less than a gram of fat, 1.4 grams of protein, 1.5 grams of fiber and around 11 grams of carbohydrates. Not bad, but not great either.
Think flour tortillas are a better choice?
Think again.
A typical flour tortilla (I actually based this on a Mission brand 6 tortilla) contains 100 calories, 2.5 grams of fat, 3 grams of protein, 1 gram of fiber and 16 grams of carbohydrates.  And thats just for ONE flour tortilla. It also contains considerably more sodium than its corn cousin (290 mg versus 10.8 for corn.)
In a competition between these two options, clearly the corn tortilla wins out. But its still not a nutritional powerhouse.
Before you give up on Mexican food, lets discuss one of the best-kept secrets out there: La Tortilla Factorys Low Carb Tortillas.
Sit down for this one, because what Im about to tell you is going to change your mind about Mexican food as part of a fit diet.
Check out these nutritional stats for one regular size La Tortilla Factory Low-Carb tortilla (they make a large size low-carb tortilla as well):
Calories: 50 cals
Fat: 2.0 g
Protein: 5.o grams
Sodium: 180 mg
Carbohydrates: 11.0 grams
Fiber: 8.0 grams
Okay, on the calorie front they are on par with the corn tortillas, but higher in sodium. But they have almost half the sodium of the flour tortilla. Where the La Tortilla Factory Low-Carb tortillas really shine, however, is in their fiber and protein content. In terms of fiber, they have a whopping 8.0 grams which is 32% of the recommended daily allowance of fiber. The also have 5 grams of protein, which hands-down beats both the traditional flour and corn tortilla.
The combination of high-fiber with high-protein (ounce-for-ounce) means that the La Tortilla Factory tortillas are not only filling, but they keep your blood sugar levels stable. This staves off hunger and discourages overeating later in the day.  And at 50 calories a tortilla, you can eat three of them and get nearly two-thirds of your daily fiber without sweating the calories.
For some perspective, two slices of 100% whole wheat bread would put you at around 200 calories (they are around 100 calories a slice), without nearly the amount of fiber or protein in three La Tortilla Factory tortillas.
Pretty impressive.
Of course, the ultimate test is how do they taste?
Let me put it this way if they were a public company, I should own some stock. I easily go through two packages of these tortillas a week. I dont just use them for tacos and burritos, but also as wraps for tuna salad, sandwiches,  PB&J (yes, thatcan be a health food if you know how to make it), quesadillas, and even flatbread pizzas.
In other words, this isnt the last time youll hear me talk about them. They are simply that good.
So what do you fill them with? This week Ill be helping you build a better (and healthier) burrito and taco, one fit ingredient at a time.
Comments (12)