Under Armour Shoes? Answer Fitness takes the Under Armour Proto Speed Trainer shoe for a run and tells you whether they're worth the price.
Product Reviewed: Under Armour® UA Proto SpeedTM II Trainer Shoes
Style: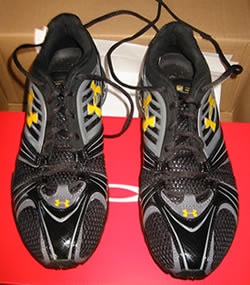 1200280
MSRP (Priced from Under Armour Outlet): $89.99
Availability: Men's, Women's, Youth
Manufacturer: Under Armour®
Pros:
Durable and well constructed
Good shock absorption, especially through the heel
Great ventilation and moisture wicking
Light-weight and comfortable
Attractive styling and design
Cons:
For specific types of training – not intended as an all-around "cross-trainer" shoe in the usual sense of the term. Not really a "con" — it's just important to understand this up-front.
Unclear Product Differentiation: Product info on website and accompanying the shoes in retail stores not clear about the differences between the shoes and what types of training they are best suited for. But they do explain it better than Nike and Reebock do with their trainers.
Doesn't run true to size.
Ratings (1-4 Scale: 1 = poor, 2= fair, 3= good, 4= excellent)
Fit: 3 (Due to issues with the shoes not running true-to-size.)
Comfort: 4
Durability: 4
Product Options: 3.5
Price: 3
Does It Do What It Claims? Yes
Would You Buy It Again? Yes

Overall Rating: 3.5
Under Armour UA Proto Speed II Trainer Shoes Review
When you think of Under Armour, you probably think of tight-fitting, high-performance athletic clothing worn under things like football pads, out for your morning run or to the gym. You probably don't associate Under Armour with shoes or athletic footwear. But in May, Under Armour rolled out their new line of performance cross-training shoes, entering into the risky, but potentially-lucrative performance footwear market.
It's no secret that I'm a big fan of Under Armour's high-performance ColdGear®and HeatGear® lines — especially the compression gear.  I have a drawer full of the stuff, from running shorts and pants, to ColdGear mocks and a couple seasons-worth of collected HeatGear. Once I tried Under Armour, I was hooked and can never imagine going back to cotton exercise gear again.
But I do have to admit that I was a bit skeptical when I heard about the Under Armour shoes.
After all, the performance athletic and running shoe market is already dominated by big brands with strong, existing loyalties like Nike and New Balance. So while I was curious about what Under Armour had up their compression-geared sleeves around their Proto Trainers, I wasn't sure exactly what they were going to bring to the high-performance athletic shoe market that other manufacturers hadn't already offered. Granted, they had already carved out a pretty significant niche in the cleats market, but could it take hold with the Proto Trainers as well?
So after a wait and see approach over the summer, last month I ended up with a pair of Under Armour Proto Speed II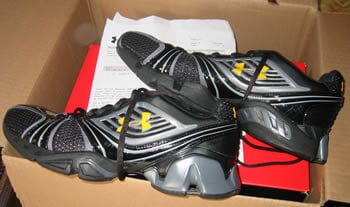 Trainers in black and graphite sitting in a box on my desk from the Under Armour online store.  I've been training in the shoes now for about a month, so I feel like I have a pretty good sense for how the Proto Speed Trainers stack up to my previous training and running shoes, a pair of New Balance 805s.
The question, of course, is whether Under Armour has made me a convert, or whether I'll be going back to my New Balances in the future. But before I get to that, let's actually take a look at the Under Armour shoe line, and specifically the Under Armour Proto Speed II Trainers I've been putting through their paces for the last month.
Under Armour Proto Speed II Trainers: Bringing The Cross Trainer Back?
Under Armour's master plan is to bring the cross-trainer back, but with a twist.
The cross-trainer shoe was first popularized in the 80s by Reebok thanks to the aerobics craze and then again in the 90s by Nike's "Bo Knows" campaign that showed sports-renaissance man Bo Jackson wearing his Nikes for everything from playing tennis to lifting weights. While cross-trainers have taken a bit of a hit this decade as training has become more specialized, the segment is certainly due up for a revival, and Under Armour seems to want to be at the spearhead of that.
And cross-trainer shoes are probably a good place for Under Armour to start.
Going head-to-head with Nike for a piece of the basketball shoe market would have been suicide for UA.  And breaking into the pure running shoe niche — where loyalties run high, and customized running shoes are all the rage (just Google "running shoe reviews" and you'll start to see how technical the discussions of running shoes can get – especially among hard-core enthusiasts) — wouldn't have been the right fit either.
But Under Armour knows its demographics and understands that the athletes who use their gear spend as much time in the gym training, as they do on the court, field or ice, playing. So launching a training shoe that you can run, jump or lift weights in makes a lot of sense for the company and its core customers.
And because UA brand loyalty is so high, the company is banking that Under Armour's fans will pony up the cash for shoes that it promises will live up to the same standards of construction and performance they've come to expect in the UA apparel lines.
---
Back By Popular Demand: Free Under Armour Shipping!

Answer Fitness readers get complimentary free shipping on any Under Armour online order of $75 or higher! To get this exclusive free shipping offer, click here, shop and make sure to use this discount code when you check out: USUMMER03. This is a limited time offer good through September 30, 2021, so take advantage of it while you can.
---
Under Armour Proto Trainers: Choosing The Right Under Armour Shoe
The whole philosophy behind the Under Armour UA Proto Trainer line is to provide a series of cross-training shoes tailored to a person's specific training goals and methods.
Figuring out which Under Armour Proto Trainer is the right choice for your style of training can be a bit confusing, however, especially if you only rely on the UA website.
I found it difficult to determine exactly what the differences were between the three product lines: Power, Speed and Evade.
Yes, I get that "Power" is for training for "Power" (I assumed), but what exactly does that mean?  So here's a quick key based on what I've been able to glean from examining the shoes, as well as researching them online and on Under Armour.com.
The Under Armour Proto II Trainer line is broken into three main products, each designed for a different form of training:
Under Armour UA Proto PowerTM II Trainer: This is a heavier-duty shoe that's intended primarily for weight-training, or activities where you have a lot of lateral movement (for example jumping) or upward and downward motion under resistance. The shoe has more heal cushioning and shock absorption in the ankle and calf area than the Proto Speed and Evade Trainers.
Under Armour UA Proto SpeedTM II Trainer: This shoe is for exactly what it says: Training for speed. This is the lightest-weight of of the three Under Armour shoes, and provides more support for forward, linear motion: for example, training that involves straight-ahead sprinting or running.
Under Armour UA Proto EvadeTM II Trainer: This shoe provides more support for side-to-side and directional motion, making it better for people who are performing training that causes them to make quick directional changes or cuts in motion. It's a medium-weight shoe, with less sideways "roll" than the Proto Speed II Trainer.
The interesting thing about Under Armour's approach with the Proto Trainers is that they took the cross-trainer shoe — which historically has been a shoe intended to meet a multitude of training needs in one product — and niched-it out.
So by focusing on three main training principles: Power, forward speed and dynamic, multi-directional motion, they've actually created a very focused set of specific products within a genre of footwear that has a reputation being kind of unfocused on purpose.
Why I Chose The Under Armour Proto Speed II Trainer
I actually picked the Under Armour Proto Speed Trainer shoe to review for a three main reasons.
1. My Current Training Focus: Running and Sprinting
I've been doing a lot of sprinting lately, so I wanted a shoe that was a bit more like a traditional running shoe in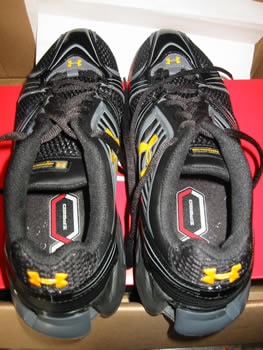 construction. The Proto Power and Evades just seemed a little heavier than I wanted, especially since I probably spend about 1/2 of my training time these days running in some way, shape or form.
2. Personal Preference: Lighter Weight and Increased Flexibility in the Sole
Even when weight training, I like a lighter-weight shoe with a lot of ventilation and and good flexibility in the sole. One of the reasons for this is that I find that heavier shoes limit some of my motion during weight training, especially when perfoming exercises where I need to go up on my toes – like standing calf raises (which I'd perform barefoot if I could get away with it at the gym.)
3. Ventilation & Lacing
Because I don't typically wear socks when I'm running or working out, I like a shoe that "breathes." The Proto II Speed Trainers are constructed primarily out of a mesh that wicks moisture, so this was attractive to me. I also like the full-lacing capabilities on these shoes, which is similar to many running shoes I've owned.
Proto Speed Trainers versus Proto Evades: Which Is Better?
Frankly, I was a bit torn between the UA Proto Speed Trainers and the Evade Trainers.
I also really enjoy trail running, which involves a lot more sharp turning, side-to-side motion, jumping over logs and vectoring around things like trail debris and roots. So in some ways, the Evade shoe probably would have been a better choice for those activities.
However, without actually being able to road test all three shoes head-to-head, I had to make a choice. So the Proto Speed Trainers won out … primarily because they were most like the shoes I've been used to in the past. I'm considering purchasing a pair of the Proto Power Trainers and Proto Evade Trainers just to get a true sense of the actual differences between the two as part of a future review.
Under Armour Proto Speed Trainers
Free Shipping, No Minimum Order
Use FALLUA1 at Checkout.
The Un-Cross Trainer Cross-Trainer?
Which raises an interesting point: The Under Armour Proto Trainers really shouldn't be considered "cross-training" shoes, because of the specialized nature each product.  It appears that Under Armour's line of thinking is these shoes will be used by athletes who are performing specialized training for certain goals like speed, power or explosive, multi-directional motion. So you'll either choose one shoe to meet your main training goal, or have all three available for the different types of training activities.
Whether this will appeal to the average gym goer or weekend training warrior really depends on your level of focus. If you're extremely focused on matching your shoe with your training methods, like me, you'll probably fret a lot more over which shoe is right for you. If, on the other hand, you're basically looking for a shoe that fits most of your needs, you'll probably choose whichever Under Armour line is most comfortable to you and call it a day.
How I Tested The Under Armour Proto Speed II Trainer Shoes
I tested the Under Armour shoes under four different training scenarios:
Sprinting: Both on a gravel running track and on concrete; typically 100-yard dashes on a track or as part of speed intervals during my regular city runs.
Distance City Running on Concrete: I've run with these about 12 times for duration/distance on city side-walk surfaces. Longest run was about five miles in San Francisco with variable inclines — lots of hills. The other runs were on fairly flat city streets around my home.
Trail Running: I did one trail run on a fairly well-maintained path without a lot of debris or obstacles, but with some sharp turns. I would consider this to be a beginner-level trail.
Weight Training in Gym Environment: I've also been wearing the Proto Speed Trainers at the gym during my regular weight training.
Proto Speed Trainer Fit and Sizes
The first thing to know about the Under Armour Proto Speed Trainers is that they tend to run small.
When I asked an Under Armour rep about this, he said they are supposed to be "true-to-size." However, I wear a 9 1/2 in New Balances, but the same size in the UA Proto Speed Trainers was too snug (and I tried them on without socks to boot.) Length was actually fine, but the width was where I had issues. I don't have particularly wide feet, so I don't think it's just me.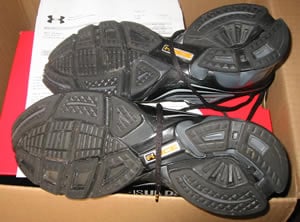 I asked around at the local Dicks Sporting Goods and the salesperson there confirmed that most people who try on the Under Armour shoes end up having to go up at least a 1/2 size.  If you have wide feet, I would expect that you'd probably have to go up a full-size to get the right fit. If you are considering ordering your Under Armour shoes online, I would recommend trying some on at a local shoe store first to determine the right size.
In my case, I sent mine back and swapped them with a shoe that was a half-size larger and it made all the difference in the world.
UA Proto Speed Trainer Construction
A few notes on the construction of the Proto Speed Trainers:
Shoe Weight and Sole Flexibility
The first thing I noticed when I got these Under Armour shoes was how light-weight they were. Under Armour uses a light-weight mesh, and lighter-weight synthetic materials in sole to achieve this.
They also had a fair amount of flexibility (good bend) in the sole through the ball of the foot, which helps with forward motion. If anyone has ever run in a shoe that's overly rigid in the sole, you'll know what I'm talking about here. There's nothing worse than feeling like you have 2x4s attached to your feet. Grip was solid and the rubber is non-marking if that's something you're concerned about.
They also have extra cushioning in the heel zone, which Under Armour claims helps reduce the stress on the ankle and calves. I generally found this claim to be accurate after running in them.
Upper Construction and Material
The Under Armour shoes are very well put together. UA has included the same breath-able, moisture-wicking material in the upper that they are famous for in their HeatGear apparel. They also treat the fabric with a chemical that is supposed to keep microbes in check, and reduce the accumulation of odor. This was definitely an attractive feature to me, since I don't usually wear socks with my shoes. So anything that helps ward off "sour-shoes" is a plus in my book. Just improving moisture transfer helps a lot with this.
Other Technical Mumbo Jumbo
Shoe manufacturers and marketers love to wow you with all of their fancy technology talk. And Under Armour is no exception.  These "gee-whiz" technology "innovations" (replete with plenty of trademarks) in the UA Proto Speed Trainer include:
"Directional Cushioning Engineering" (DCE®) – UA website says DCE "propels athletes along a linear path with total control and comfort." I call that "shock absorption" and if it works, I'm all for it.
ArmourGuideTM Directional Cradle: Basically stabilization within the shoe to improve forward motion and keep the foot striking with correct form.  I don't know what else to say here.
Full-Length ArmourBoundTM: More light-weight cushioning throughout the length of the shoe. Again: cushion = good.
So Are Under Armour Shoes Any Good? My Training Notes
I basically took notes around the performance of the UA Proto Speed Trainers in each of the four training scenarios above. Here are the summaries for each type of training:
Sprinting
This is where I felt the UA Proto Speed Trainers really excelled. It's definitely not a replacement for a specialized sprinting shoe, but for basic sprint training on a hard surface (like a hard-pack track, gym surface or concrete) it's a very solid performer. I also tried this out on the treadmill and had similar results. I saw a marked difference between the Under Armour shoes and the New Balance shoe I had been using before. I'm not going to say it had a dramatic impact on my speed, but it was a very comfortable shoe and I did notice the difference in weight.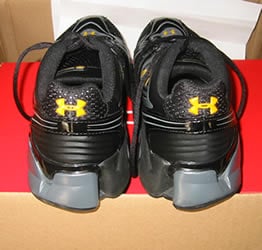 Distance Running on City Streets
As a basic running shoe the Proto Speed Trainer held up well against the New Balance. The main differentiators here were the fit and weight.
While the Proto Speed Trainer does run a little smaller, once you get the right size, the fit is quite good and the shoe does a nice job of "moulding" to your feet. The less you notice the shoe, the better, in my opinion.
I took these on fairly long run in San Francisco when I first got them and was pleased overall with the performance.
I actually hadn't run in about 10 days, so I was interested in whether I'd get some of the usual stiffness the next day in my calves that I sometimes experience after a break from running (especially considering all the hills.) I was pleasantly surprised to not experience that soreness the next day, but it's difficult to attribute that to the shoes alone. My New Balances are about eight months old, so some of the cushioning material has no doubt broken down. So simply wearing a new pair of running shoes could have accounted for this. There's really no way to scientifically-measure this without putting the Under Armour shoes up head-to-head with a new pair of New Balances. That said, there was nothing negative about the Proto Speed Trainers in terms of comfort or performance.
My only reservation is that I did notice a little more "rocking" in my ankles when making sharp turns than with my New Balances. So maybe UA is correct when they say this shoe is best for straight-aways without dynamic turning. It wasn't a huge problem, but I would be curious to see how the Evade shoe compares as a running shoe in this regard.
Trail Running
I only did one trail run in the Proto Speed Trainers. The shoe was fine, but I wouldn't say it's the best choice if this is your regular mode of training. I liked the light-weight properties of the shoe, but I'd be a little concerned about ankle support on a more rugged trail. The Evade might be a better choice here, or perhaps a more specialized trail-running shoe for more unpredictable, uneven terrain.
Weight Training
I've used the Under Armour shoes in the gym for general weight training regularly over the last month. Again, I personally prefer a lighter-weight shoe in general, so I found this to be a little more comfortable than my New Balances. I didn't really experience any negatives around using this shoe as a basic trainer indoors, but my expectations were moderate to begin with. No shoe is going to help you lift more weight, although having a shoe that gives you good stability when the foot isn't necessarily in motion helps with balance during activities like squatting.
The main benefit to the Proto Speed Trainer as a weight training shoe is around the ventilation — which is very good. Sweaty feet suck, and true to the Under Armour marketing materials, the Proto Speed Trainer does have good wicking and cooling properties.  And so far, no sour-shoes.
What About The Price?
There's no doubt that the Under Armour Proto Trainer shoe line is priced in the upper-range of cross-trainers. The Proto Speed Trainers have an MSRP of $89.99, which is on par with the Nike SPARQ Elite (UA's main competitor in this segment), although it looks like some retailers have slashed the prices on certain SPARQ lines down into the $50 range recently.
That said, Nike's latest line of SPARQ Trainers are retailing for $110 on Nike.com — so even the most expensive Under Armour training shoe, the Proto Power Trainer (MSRP: $99.99) is still less expensive that the Nike product. Same goes for the Reebok Trinity KFS III which beats them all at $119.
Overall, compared with the competition, I think this is not only a very competitively priced shoe, but probably a good value. You can certainly pick up lower-end and mid-tier trainers for half the price either online or at your local sporting goods or athletic shoe store, but among the higher-end performance lines, the Under Armour shoes are not overly expensive.
If you're craving some Under Armour shoes, but the $89.99 for the Proto II Trainers is a little rich for your blood, you can always opt to buy the first generation Proto Trainers that were introduced earlier in the year for a fraction of the price. They are currently available on the Under Armour website for less than $75 dollars.
Where To Buy Under Armour Shoes and Proto Speed Trainers and How To Get Free Shipping
You can purchase Men, Women's and Children's Under Armour Shoes and Proto Trainers at most sporting goods stores, as well as online at the Under Armour Online Outlet.
Ready to Buy? Free Shipping! Answer Fitness readers get complimentary free shipping on any Under Armour online order of $75 or higher. To take advantage of this  free shipping offer, click here, shop and make sure to use this discount code when you check out: UASUMMER03. This is an exclusive Answer Fitness/Under Armour offer good through September 2021.
The Verdict: Under Armour Shoes or Back to the New Balances?
Overall, I think I preferred the Under Armor Proto Speed II Trainers to my current New Balance 805s. Fit was a bit better (once I got the right fit), and I really liked the increased ventilation.  However, the key here is to remember that the UA Proto Speed II Trainers are still a kind of specialized training shoe, so keep that in mind when you choose for yourself.
If your primary training goal, for example, is regular distance running — you may want to go with a more specialized shoe — especially if you need something like pronation support. I really view the Proto Speed Trainers as better suited for shorter, faster interval type training — which is similar to what the New Balance 805s are intended for, as well. So I think they are fine for runs under 5K on fairly even surfaces, but if you're training for a marathon, these wouldn't be the right fit.
Same goes for trail running. I actually wear an older pair of New Balance 644s, which are technically a lower-cost walking/running shoe, because they seem to hold up better on the trail than the 805s (which are speed-type shoes.) So the lesson here is that you might actually end up with a series of different shoes tailored to each of your specific activities — depending, of course, on how serious you are about getting an edge in your training.
Overall, Under Armour has built a solid, high-performance shoe that more than holds it's own against Nike and New Balance. Check back in a couple of months, and I'll let you know how they hold up in the durability department, as well as how they compare to the Power and Evade shoes, which I'm planning on testing as well.