Under Armour® says when it's cold outside, you need ColdGear®. Find out whether Cold Gear lives up to its promise.
Product Line Reviewed: Under Armour ColdGear®
Specific Products Reviewed:
Under Armour ColdGear Legging ($54.99)
Under Armour ColdGear Long Sleeve Compression Hoodie (59.99)
Under Armour ColdGear Loose Inferno Jacket ($69.99)
Under Armour ColdGear Loose Inferno Pant ($59.99)
Manufacturer: Under Armour
Pros:
Durable and well constructed
Excellent moisture wicking
Good thermal transfer and keeps you from overheating, while still keeping you warm
Smooth seams to cut down on pinching and abrasions
Looks cool
Cons:
May be perceived as a bit expensive to some people; but very competitively priced compared to similar products from specialty outfitters like The North Face, Patagonia and Cabelas
Ratings (1-4 Scale: 1 = poor, 2= fair, 3= good, 4= excellent)
Fit: 4
Comfort: 4
Durability: 4
Product Options: 4
Price: 3
Does It Do What It Claims? Yes
Would You Buy It Again? Yes

Overall Rating: 3.8
Under Armour ColdGear Review
In most parts of the country, October means football, falling leaves … and dropping temperatures.
But for fitness buffs, runners, hikers and winter sports fanatics, a drop in the mercury and a little bit of snow and ice is no excuse for staying indoors and succumbing to cabin fever.
Of course, staying fit and active during the winter months means staying warm and dry, even in the face of rain, sleet and snow. And anyone who has ever spent a few hours hiking the Boundary Waters in December or running the streets of New York in January knows that the clothing you choose can be the difference between ecstasy and agony. When it's hot outside, you can always strip off layers. When it's cold and damp, on the other hand, what you're wearing on your back is pretty much what you'll be wearing until you get back in the warmth of your home, apartment or cabin.
So you better choose wisely.
Under Armour: More Than Just Gear For Athletes
Most people will know Under Armour as the company that started its business creating clothing for athletes to wear under their uniforms or athletic equipment. It was a niche that had gone unfulfilled for years, and Under Armour quickly moved into the space and become the de facto leader in high-performance sporting apparel.
Over the past few years, however, Under Armour has branched out into the general fitness and sports apparel markets, and has introduced a number of popular clothing lines that have broader appeal to sports and fitness enthusiasts. These products now include everything from hoodies, to running shorts, to t-shirts, and most recently, performance athletic shoes and men and women's underwear.
But Under Armour is probably most well-known for their line of climate/temperature specific athletic and fitness clothing: UA Heat Gear and UA Cold Gear.
---
Back By Popular Demand: Free Under Armour Shipping!
Answer Fitness readers get complimentary free shipping on any order of $75 or greater from the Under Armour online outlet. To get this exclusive free shipping offer, click here, shop and make sure to use this discount code when you check out:  UAFALL01. This is a limited time offer good through October 31, so take advantage of it while you can.
---
What Is Under Armour Cold Gear?
UA Cold gear is a line of athletic and fitness apparel for … surprise … when it's cold outside.
The Cold Gear product line is actually very diverse, and offers not only clothing intended to be worn under your outerwear, but also outerwear itself — things like jackets, gloves and hats.
What's particularly interesting about the Cold Gear line is that it appeals to a broader group than Under Armour's traditional customer base – people like hunters, cross-country or downhill skiers, or cold weather hikers and campers.  This has attracted a growing following for Under Armour Cold Gear among not just athletes and fitness junkies, but also outdoor enthusiasts, giving some of the traditional outfitters like Patagonia and North Face a run for their money.
Cold Gear's claim to fame is that it uses a double-sides fabric that manages to wick moisture away from the body, while still providing insulation. Moisture wicking materials aren't new — they've been widely used among hikers and runners for some time now — but Under Armour has taken this wicking and insulating fabric and fashioned it into a series of specialized clothing for customers who have specific cold weather needs. They've also been sensitive to people's desire to not only stay warm, but look good — so in typical Under Armour fashion, they've added some nice styling to their clothing.
The Cold Gear Lineup
The Cold Gear line is broken into several niches:
Cold Gear Compression:
This is the signature Under Armour compression line in Cold Gear fabric. The compression gear line is tight-fitting and makes a great base layer against the skin. The advantages of the compression gear is that it fits almost like a second skin, and does a fantastic job of pulling moisture away. It also is ideal for preventing chaffing during activity. Depending on the temperature, the Cold Gear compression gear can also be worn without a top layer. While this line tends to appeal most directly to athletes and runners, it's also an excellent first layer under heavier cold weather gear.
Cold Gear Loose:
The Under Armour Cold Gear loose line is a more generously cut, looser line of cold weather gear that can be worn alone, layered on top of compression Cold Gear, or in the case of the Canton or Deep Thaw jackets and coats, worn as outerwear.
Cold Gear Outwear:
This actually encompasses several of Under Armour's Cold Gear products, and includes a line of jackets, coats and pullovers of varying degrees of insulation. The heaviest of these is the Cold Gear Haw Jacket and the lighter are a series of fleece pullovers.  Under Armour also makes a series of Cold Gear camo jackets and coats geared toward hunters.
Cold Gear Base:
This a group of fitted pieces that are intended to serve as a base-layer that can be worn all day. The base line includes crews and leggings.
Basically, by combining several different pieces together, you can build an extremely versatile, layered Cold Gear outfit that's customized to your activity and the temperature and climate.
Under Armour Cold Gear
Free Shipping, No Minimum Order
Use UASUMMER03
at Checkout.
Cold Gear Technology and Construction
One the hallmarks of all of Under Armour's apparel (not just Cold Gear) is their attention to ergonomics. All of their apparel is carefully-designed to position seams at key movement points and they put extra attention on smoothing these seams on the inside of the clothing, which reduces bunching, pinching and other restrictions on mobility. This also reduces chaffing at repetitive motion points, like the groin and arm-pits.
The Cold Gear material itself is typically a combination of Poly ArmourTM (Under Armour's patented fabric), NylourTM and Elastane, which gives it plenty of flexibility. On some Cold Gear pieces, Under Armor also uses it's own version of a fleece, which utilizes a brushed-interior for insulation, while drawing moisture out to the outer layer where it evaporates.
My Experience with Under Armour Cold Gear
I've been using select Cold Gear pieces as first layers under heavier cold weather gear for about a year now. My experiences primarily have been limited to using Cold Gear as underlayment for cold weather camping, as well as some outdoor activities like pond hockey and … sigh … shoveling snow.
Over the years, I've tried a number of different materials as a first layer under heavier snow and cold weather gear, including the traditional cotton long-johns, some lighter-weight poly-fiber leggings, and silk leggings and under-shirts. Of the three, the silk under gear is probably what I would consider to be the "gold standard" when it comes to a good, light-weight first layer. It's soft, breathable and does a nice job of wicking moisture — especially compared to the cotton.
However, after starting to experiment around with the Under Armour Cold Gear last year, and found that I preferred it to the silk. I'm a big fan of the Cold Gear compression gear, because its snug fit adds insulation and wicking action without adding bulk under outerwear. The Flatlock seams on the pieces are also a huge plus when it comes to comfort. There is nothing worse than having a raised seam causing discomfort or abrasions when it's buried under three layers of outwear in 10 degree weather.  That's one itch or scratch you don't want to have.
Another trick I found was to substitute Under Armour's Heat Gear line as a first layer. I have tons of Compression Heat Gear laying around, and despite being designed for hot environments, it can also double as a lighter-weight layer against the skin, under heavier out-layers. This is especially useful when you are in-between temperature zones — for example in the fall or spring.
In late August, I packed a couple of pieces of the seamless Compression Heat Gear on a fishing trip to Michigan's Upper Penisula — where overnight temps can dip into the 30s and 40s on a clear night — and I was surprised to find how nicely it worked as an underlayer beneath a heavier cotton turtle neck. Under Armour does offer an all-season line of gear, but if you already own some Heat Gear, you might experiment around with it during slightly more temperate conditions.
Putting UA Cold Gear to The Test During Cool Weather Running
Since most of my experience with Cold Gear so far has been as a primary layer during extreme cold weather "outdoorsy" activities, and not as outerwear during exercise in cooler temperatures, I decided to spring for a couple of new pieces of Cold Gear to see how they held up during my cooler-weather fall trail running.
This will probably be the type of activity that most people would use Cold Gear for, so I tried to pick a couple of pieces that I thought would represent what most people would wear during cold weather training:
Cold Gear Underlayer
Men's Cold Gear Legging ($69.99)
Mens Cold Gear Long Sleeve Compression Hoodie (59.99)
Cold Gear Outerlayer
Mens Cold Gear Loose Inferno Jacket ($69.99)
Mens Cold Gear Loose Inferno Pant ($59.99)
Total Cost: $244.99
This would be typical layering approach for cool temperature training, and would probably let you train comfortably down into the upper 30s without having to add additional outer layers.
A similar woman's Cold Gear outfit would be:
Cold Gear Underlayer
Women's ColdGear Frosty Tight ($69.99)
Woman's ColdGear Tornado II Mock (59.99)
Cold Gear Outerlayer
Woman's ColdGear Frigid Jacket ($69.99)
Woman's ColdGear Frigid Pant ($59.99)
Total Cost: $244.99
During my three cool weather training sessions (average run time 30-40 minutes at a moderate pace) I recorded the following outdoor temperatures: 56 degrees, 50 degrees and 48 degrees. During two training sessions, it was clear and sunny. The third day was overcast, and felt cooler.
Here are my observations regarding each piece of clothing taken from my combined notes from the three sessions:
Cold Gear Legging:
The Cold Gear Legging is basically the cold-weather version of the UA Heat Gear compression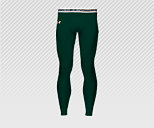 short that I wear under my shorts during weight training and summer time running. The Heat Gear short version of this product is one of the most comfortable under-layer shorts that I've worn, primarily because of the flat seams and snugness, which completely does away with any pinching, chafing or bunching. The Cold Gear version of this accomplishes the same thing but in a legging. I found these to be equally as comfortable, and could see how they would make a strong first layer even under snow-pants or waders.
Cold Gear Loose Inferno Pants:
Nice, light-weight running pant that also was surprisingly warm for it's thickness. I could actually get use to just wearing these around the house in the winter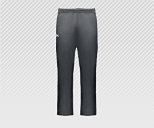 time. I like the back pocket, which is an issue with some of the Under Armour shorts (there are some that have small pockets to carry a drivers license in, however, which is nice.) I also think these would make a good outer pant for skating (either indoors or outdoors), and especially for pond hockey. The Heat Gear Inferno Pants would probably be slightly too warm to wear to the gym for indoor training, so I'd opt instead for Heat Gear long pant.
Cold Gear Long Sleave Compression Hoodie:
Okay, the idea of having a built in hood is really what attracted me to this particular Under Armour top. Depending on the temperature, you could get away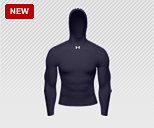 without a hat by using the hoodie, or you could layer a hot on top of it during colder weather. I actually tried this just to see how it worked out, and the hat/hoodie combination did a nice job of protecting the entire head, including the back of the neck, which you wouldn't get with the hat alone. I could see how this would provide some additional protection and warmth on windy days. Again, the compression gear is great become it's very form fitting. It almost feels like you have nothing on underneath the jacket, yet it keeps you warm and dry.
Cold Gear Loose Inferno Jacket:
The Cold Gear Loose Inferno Jacket was just about right for a run at about 50 degrees. When the sun was shining, I was afraid that it might be too much — especially after I started warming up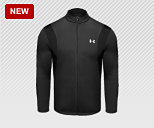 on the run. However, I was surprised at how well the Cold Gear breathed and I never really felt overheated despite the double layers. Fit was very good, and the full zipper was nice because I could pull it down a bit for additional ventilation, or on the overcast, cooler day, keep it zipped up all of the way.
General Notes and Observations
Insulation and Heat Transfer: As I pointed out earlier, the most surprising thing was that even with two layers of insulation on, the Heat Gear transfers excess heat off your body extremely efficiently.  The thermal exchange was pretty impressive. So as you start to heat up from activity, the Cold Gear literally lets the excess body heat out, while keeping the cold from penetrating.  I expected at some point to have to pull the jacket off as the intensity on my run increased, but that never happened. I stayed at a very comfortable temperature during all three training sessions.
Wicking and Perspiration Control: Like all of Under Armour's clothing, the wicking action is amazing. I used to work out in cotton, but by the time my run or training was done, my cotton t-shirt would be soaked with sweat. This also tended to cause me to overheat and sweat even more. When I switched to Heat Gear, this problem completely disappeared. I was curious to see how it worked with the more insulated Cold Gear, and I was pleased to see similar performance from even the thicker Cold Gear fabric. Also, Under Armour is less prone to developing stinky locker room odors because of it's breath-ability, so even when you do sweat, you don't end up smelling like a gym bag.
Durability: Since I've had the Cold Gear for about two weeks, I've only laundered the Compression Hoodie and leggings twice so far, and haven't washed the jacket or Inferno pants.  So I can't yet say how well it holds up after multiple washings. However, the Heat Gear that I own has held up extremely well.  The Compression gear does a remarkable job of holding it's original shape, and I haven't had any color fading, ripping, snagging or tearing at the seams. This is surprising considering the physical beating the clothing gets each week. I have several Heat Gear compression shirts that are approaching 4 years old and with the exception of the logo cracking a bit, they still look pretty close to brand new.
Price: Under Armour isn't cheap, and this is probably one of people's biggest criticism of UA. I've heard a few people say that it's over-priced, over-hyped and that you're paying for the brand cache as much as the clothing itself.  I'm not sure that this is entirely fair. Under Armour is extremely well-made, so in many respects, your getting what you pay for. If the stuff faded, ripped or was falling apart within a few months, than I'd say the criticism were fair. But the Under Armour that I've owned holds up extremely well, especially compared to some of the less expensive knock-off stuff out there, or even Nike's performance athletic gear (which is comparably priced in most cases.)
Keep in mind that in the case of Cold Gear, you'll likely only need one set of the stuff.  The Cold Gear outerwear won't need to be washed as frequently as summer training clothing, which tends to be directly on your your skin most of the time. You may want to spring for an extra underlayer shirt and leggings, but for about $250 bucks, you can put together a solid cold weather training outfit that you'll get several years of use out of.  Best of all, you'll stay warm and dry, which if you've ever gotten damp in cold weather, you'll know is worth more than $250 dollars.
Finally, if you're considering Cold Gear for outdoor activities like cold weather camping, hunting, hiking or skiing, Under Armour is competitively priced compared to base-layer apparel from specialty outfitters like The North Face, Cabelas or Patagonia.  For example, The North Face's Expedition Tight (which is roughly equivilent to the Cold Gear Legging) retails for $55 — a difference of about $1. For comparisons sake, some of Cabela's base layers can retail for more than $100 a piece.
What's Next: Testing Cold Gear At Lower Temperatures
Under Armour recommends Cold Gear for temperatures below 55 degrees Fahrenheit. Over the next month or so, temperatures here in Michigan will begin to drop down lower and we'll start having more days and evenings that go below freezing. I'm going to continue to test this current Cold Gear configuration to see how it works at lower temperature, specifically in the 30s and 40s. Check back for more notes in the coming weeks.
Where To Buy Under Armour Cold Gear and How To Get Free Shipping
You can purchase Men and Women's Under Armour Cold Gear at most sporting goods stores, as well as online at the Under Armour Online Outlet.
Get Free Shipping on any Under Armour order of $75 or greater through the Under Armour Outlet. To get this exclusive free shipping offer for readers of Answer Fitness, click here, shop and make sure to use this discount code when you check out: UAFALL01. This is a limited time offer good through October 31st.
What Do You Think? Looking For Female Fitness Apparel Reviewers
Since I can't really test and review women's fitness apparel first hand, I'd love to feature some guest reviews from women. If you are a female and have experience with women's fitness and athletic apparel, please contact me. If you're a female fitness blogger, it would be a great way to build visibility and additional traffic for your website, as well. So don't be shy … I know there are a lot of you out there.
Comments (19)
Trackback URL | Comments RSS Feed
Sites That Link to this Post
Model Body Workout: Hot New Product For Fitness Niche! 75%. | 7Wins.eu | June 28,
Under Armour's Cute ColdGear | Fun. Fit. Chic. | October 9,
Bill Parker (2 comments) says:
October 29,  at 7:59 pm
I just finished a 6 mile with a new PB and it's 33 degrees outside, if you ever need anyone to really test this stuff out you let me know, I'll put some miles on it 🙂
reply
kendall (2 comments) says:
October 30,  at 6:32 am
The under armour cold gear rocks. I'm a figure skater and have a drawer full of this stuff. I'm also with you Matt. I love the compression line. Check out the power in pink stuff also. Under Armour donates $2 per item to breast cancer charities (plus I just like pink.) Recently bought a tornado two mock in pink and loved it so much that I bought a second!
reply
linds (4 comments) says:
November 9,  at 12:17 pm
I'm with Kendall. I luv Under Armour. The heat gear is wonderful. I've pretty much traded in my old sports bras for heat gear versions and the difference is really noticable. The moisture pretty much just evaporates right off you. Getting away from cotton workout gear is one of the best things you can do. I used to own a lot of stuff from Fit Couture and Otomix also. The Otomix isn't as functional as the Under Armour, but it's CUTE! It's more for looks, in my opinion, than working out so I wear that out of the gym more than I do the Under Armour.
reply
Jenny (2 comments) says:
November 19,  at 3:21 am
Thank you for the excellent review! I've been gearing up for winter in NYC, and since I spend a good 3-4 hours outside every day have been looking to protect myself a bit better than I did in high school ("look at me running 6 miles in a blizzard sans pants!").
I absolutely love the ColdWear tights (which are $50, incidentally), and will soon be trying out the compression long-sleeve/loose half-zipper jacket combo. Tales from an ex-cross country star turned Manhattan dog runner to come lol!
Cheers
reply
Matt (194 comments) says:
November 19,  at 8:09 am
Jenny, glad you like the Under Armour review. The Cold Gear is amazing. I just bought a couple additional pieces to what I reviewed because I like it so much. If you know any other runners, pass the article along. Free shipping until the end of the year when they shop and by the Under Armour store through the link in the review. 😉
X-Country comment was hilarious. I never ran it, but I still see the high school x-country team out in the snow in shorts. So I guess some things never change.
After you get the new Cold Gear, shoot me an email. I'd love to have you write a review. Doesn't have to be as long as mine. Or, at the very least, drop make by with a brief review in the comments.
Thanks for leaving a comment, and I hope you'll visit often. We update a couple times a week with a new article, so the content tends to be pretty fresh. Have fun with the dog and the running (and your research.)
Matt
reply
runningboy (2 comments) says:
November 24,  at 7:41 am
Thanks for the great Cold Gear review. You clearly did your homework here and I pretty much agree with your assessment of the Under Armour products. Really thorough.
I'm an avid runner and try to run every day, even when the weather gets bad. It's not always easy. I live in Chicago so your run can be pretty miserable if you're not dressed right. If you live in a temperate climate, a "cold day" is like 40 degrees — here it can be in the teens or often lower. When it gets that cold, I'll skip it and go inside, but I really hate running on a treadmill, so more often than not I brave the cold.
I own several pieces of the Under Armour Cold Gear. As you pointed out, the trick is to be very aggressive with layering. I hadn't thought about putting down a first layer with the heat gear that I run in the summer with, so I'm going to give that a try. It's an interesting idea.
I'd also agree that the durability on the UA products overall are excellent. I've tried some of the cheepie stuff out there and had seams pull and I've had some wear and tear show pretty quickly. So in my book if your serious about your equipment, it's better to part with the extra few dollars and get the good stuff.
Anyway, great article.
reply
Matt (194 comments) says:
November 25,  at 7:35 am
Runningboy … another great comment. Thanks for participating. I appreciate the positive feedback. These reviews actually take a long time to write, so it's nice to know that they are helpful for people. I have a review of the UnderArmour Proto Speed Trainer shoes on tap for later this week (hopefully) — so check back if you are interested.
Great points on the importance of layering. I have to tell you that you're a brave man for running in Chicago in the winter. I can barely stand walking in Chicago in February when I visit.
Let me know what you think about layering the Under Armour Heat Gear under the Cold Gear as a base layer. If at all possible, I'd opt for the UA compression Heat Gear, since you want it to stay really close to your skin as a base layer. I actually came upon this trick totally by accident, so I'm curious to know how it works for other people.
Best of luck with your training and stay warm!
reply
T51 (1 comments) says:
November 29,  at 8:32 pm
Hey I`m just wondering what is the difference between the base layer ratings. 1, 2, and 3. I am looking for a base layer to use when snowboarding and this stuff seems great, but I want to understand the base ratings.Thanks,T51
reply
Matt (194 comments) says:
December 1,  at 6:54 am
T51, great question on the difference between the Under Armour Base Layer ratings. This is actually a fairly common point of confusion for people, I'm finding. I was talking to a colleague who runs a few weeks ago and he wasn't sure what the differences were between 1.0, 2.0 and 3.0 either — except for the price.
The main difference between the three base layers is the level of insulation:
Under Armour UA Base 1.0: The lightest weight base layer, it's geared toward cooler temperatures, but not conditions of extreme cold. It also appropriate for higher exertion levels, where you body heat will be rising naturally from activity. Under Armour views this as warmer weather "cold gear" — although "warm" is very relative.
Under Armour UA Base 2.0: This is UA's intermediate Cold Gear base layer, and is more versatile. It's lighter than the 3.0, but has more insulation than the 2.0. It's appropriate for different exertion levels.
Under Armour UA Base 3.0: This is the heaviest of the three base layers and is appropriate for extreme cold conditions where you would have lower exertion levels.
I would say for your purposes (snowboarding), probably the 2.0 would be the best choice. The UA 1.0 might be a little too lightweight and the 3.0 — too heavy. Of course, what you layer on top will make a difference as well.
Best of luck!
reply
Misha (1 comments) says:
December 22,  at 6:41 am
Hi Matt, I came across your site while searching for information on Under Armour for cold weather running. It was very informative but I'm a little confused about the layering process and the number of products available on the website is overwhelming.
Would you recommend the same gear for temperatures around 0 F? I live in Ontario Canada and it can get pretty cold especially when the wind picks up. Do these pieces of apparel block wind as well?
I hope you don't mind these questions. I'd just like to make the best purchase.
reply
Matt (194 comments) says:
December 22,  at 7:21 am
Hi Misha, thanks for stopping by.
Check out the comment right above your comment for some additional help on the differences between the Under Armour Cold Gear Base Layers 1.0, 2.0 and 3.0.
Basically, the difference between the Cold Gear layers is their thickness and insulation. UA Base 1.0 is the lightest weight – and is rated for temps under 50 degrees, but it's probably too lightweight for what you need in Ontario this time of the year.
For your climate, I would start with the UA Base 3.0 for your first layer — the Women's ColdGear Base 3.0 legging and Women's ColdGear Base 3.0 Top. This is the heaviest insulation available in the three UA Base products, and will be a solid start. The 1.0 would be more appropriate for early to -mid-fall, since it's lighter weight.
If you'd like something that comes up a little higher on your neck for a base layer, you could also try the Women's UA Base 3.0 quarter-zip top.
Both of these products should do a nice job of blocking the wind, since they fit tight to the skin and have a good amount of insulation. Of course, you'll want to add a wind-break layer on top just to be safe.
For a second, layer you could add something like the UA ColdGear Fitted ColdGear Frostwork top. The fitted may work better for you than the compression, because it's a bit looser in fit, and will likely go over the Base Layer 3.0 better. If you want a tighter fit, try the compression top, but buy it a size larger because you'll have a bulkier first layer under it.
For the bottom second layer, you might try the Women's UA FrostWork pant or for a slightly less fitted feel, the Women's Under Armour ColdGear Armour Fleece Pant II.
Top layer is kind of up to you based on the elements, temperature, etc. The best thing is to try the first two layers as a base, and then figure out how heavy you need to go on the top layer. If you're staying warm and find the wind-break is solid, then use that to determine your top layer. Under Armour has several top layers in verying thicknesses – running from the medium-weight Under Armor Ultimate Jacket to heavier jackets and coats.
If you are on the fence around top layers, order a couple of things with different levels of insulation and try them out with a simple walk around the block on a cold day. Adjust that for your expected exertion levels while running, since your body temp will naturally rise when you exertion is higher.
One of the issues with buying UA gear is that their website typically has a much better selection of product than you can find at a retailer or sporting goods/outdoor gear store. So to get specialized, you'll probably have to shop online. However, they do have a good return policy, so order a couple of different items if you are unsure and then return the ones that don't work for you (provided they are still in resaleable condition.)
When you are ready to order, make sure you go through this link to do your final shopping and ordering and use the code FALLUA1 at checkout to get free shipping. This is good until December 31.
I think you should be solid on the base and second layer recommendations I gave — it's just top layer that you need to experiment around with.
Also, would love it if you'd stop back by and let people know your opinions after you've bought your gear.
Let me know if you have any other questions.
reply
Joanie (1 comments) says:
January 11,  at 10:13 pm
Hello I'm a grandmother. I'm not very athletic but when we bought a home in the mountains, my grand son wanted to go tubing. How can a grandmother say no?
Coldgear made it possible for me to be comfortable outside for hours. I was wearing 3 thick layers and it was so uncomfortable not being able to bend at the joints. I'm wearing the men's compression wear because the shirts are cut a little fuller. I picked mine up at an outlet store that carried an off color at a reduced price. However I was told by the salesman that the company is discontinuing these.
This Christmas I bought the entire family sets of the compression wear. My husband is a chore when it comes to trying new things but he's wearing these everywhere. They are holding up well after many washings. So forget the young athletes, it's Grandma and Grandpop who would appreciate Coldgear.
reply
Matt (194 comments) says:
January 12,  at 6:44 am
Joanie, thanks for stopping by and giving us the "grandmother" perspective on Under Armour ColdGear. What a great story.
While you're probably right that you may not be the typical Under Armour target market, UA has been expanding their product line and marketing to go after people who are participating in a wide-range of outdoor activities, including camping and hiking. That's why they make the camo line and some of the Scent-Lock under-layment.
I haven't heard that Cold Gear Compression is going to be discontinued. That would surprise me. The salesperson was probably refering to the particular style of Cold Gear compression that you bought. Under Armour likes to introduce new designs and styles within each of their gear lines each season, so they were probably just closing out the particular style you bought. I will double check for you, however.
I'm with you on wearing Cold Gear as base layers for outdoor activities. While I wear a lot of it for cold weather running, I also wear it under my heavy coat when I blow snow, work outside in the cold or play pond hockey.
I've actually heard that there are a number of doctors and nurses who also wear the stuff under their scrubs as a base layer when the office or hospital gets chilly in the winter.
So while Under Armour clearly markets to athletes, their product has appeal far beyond that.
Again, thanks for stopping by and sharing you experiences!
reply
Michelle (7 comments) says:
June 3,  at 2:53 pm
Hi –
I just read your extremely helpful review of UA and kind responses to questions and had a question myself 🙂
Right now, I live in Iowa (where it hit -30 or -40 this past winter) and know a few friends who opted for some UA and found it very helpful.
This fall, I'm heading off for college in RI and was wondering if UA cold gear might be a good idea for me as well given the more frequent walking I would have to do between classes/meals/etc.
I really do rather detest being cold (I don't even know how I survived this past winter!) and, in a more "evil" sense, I'm trying to make some of my more expensive apparal purchases while I still have access to my parents' money 😛
reply
Mark (12 comments) says:
March 10, at 11:34 am
I wear under armour compression clothing during training and they are great!
reply
Dan Rose (2 comments) says:
September 6, at 11:17 am
What kind of layering would you recomend to wear underneath a carhart jacket while working on the Ambassador Bridge with high winds and temps in the teens?
reply
Dan Rose (2 comments) says:
September 6, at 11:41 am
What would you recommend for layering under a carhartt jacket for working in construction on the Ambassador Bridge with hight winds and 10 – 20 degree temps?
reply