This Easy Chicken Tortilla Soup Recipe Has All The Great Flavor of a Traditional Tortilla Soup While Still Managing To Be Good For You!
Mexican food doesn't have a reputation as a "health food" — but it doesn't have to be that way.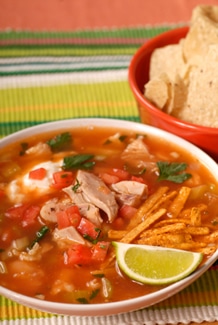 Take tortilla soup recipes, for example.
While many restaurant tortilla soups are loaded with fat and sodium, it's possible to make a delicious, authentic tortilla soup recipe at home that will blow the pre-made stuff away and keep you lean and in shape (or help you get there, if you're just starting out.)
This Chicken Tortilla Soup recipe uses all kinds of whole — but convenient — ingredients to make a bowl of soup that will trigger guilt-free seconds. And if you're cooking for kids, this Chicken Tortilla Soup recipe will be a real hit, since it duplicates the fuller-fat versions of tortilla soup out there, without actually having all of the fat and sodium. No one will know the difference, trust me.
The best part is you can literally throw this Chicken Tortilla Soup recipe together in about 30 minutes — which makes it uber convenient for harried professionals, busy families who are pressed for time, but still want to eat healthy, and gym rats who want to get in their nightly protein after a great weight training session.
A Healthy Chicken Tortilla Soup Recipe That's Easy & Fast!
The beauty of this Chicken Tortilla Soup recipe is its simplicity and speed to prepare.
It uses a couple of canned — but healthy — ingredients as a base, and relies on store-bought, pre-cooked rotisserie chicken to cut down the prep and cook time.
Because you are basically mixing a bunch of ingredients together in a pot, it's pretty difficult to screw up this tortilla soup recipe, even if you are an absolute beginner when it comes to cooking. The recipe does call for a couple of unique herbs that you may not have on hand, but they are either optional or I've provided substitutes that will work just fine in their place.
The great part is that outside of pulling the breast meat off the rotisserie chicken and chopping an onion, the rest of the recipe is basically pouring ingredients into a pot.
This recipe will take you about 10-15 minutes to prep and you'll want to simmer the tortilla soup for an additional 15-20 minutes prior to serving. Garnish it with some low-fat plain yogurt, low-fat sour cream — or my personal favorite, Quark – and add a few baked tortilla chips and a slice or two of avocado, and you're done.
It's really that easy.  And that healthy.
A single serving contains only 264 calories (take that Applebees), 15 grams of carbohydrates and a solid 22 grams of protein, thanks to the chicken breast. It also has a healthy dose of the antioxidant lycopene thanks to the tomato paste, and nearly a third of your RDA of Vitamin B-6 and Vitamin C, as well as half of your recommended daily niacin.
Remember, I said you could go back for guiltless seconds.
In terms of equipment, all you'll need is a chopping board, a sharp knife and a big pot — three things that every kitchen probably already has. By the time you're done, you'll have made the best chicken tortilla soup on the planet. I've even added instructions for making a vegetarian version at the end of this recipe.
So let's get going so you can start eating.
Chicken Tortilla Soup Recipe
Serves six
Chicken Tortilla Soup Ingredients
1 pre-roasted store-bought rotisserie chicken, breast meat removed and pulled apart by hand (about 1 lb of breast meat.)
1 medium yellow or Spanish onion (about 1 cup), chopped
2 cloves fresh garlic minced, or 1 TBS jarred garlic
1 TBS olive oil
1 10-14 oz can diced tomatoes with green chilies
1 small (6 oz) can tomato paste
1 large (48 oz) can of reduced sodium chicken broth
1 TBS cumin
1 TBS Epazote (A Mexican herb — OPTIONAL)
1 TBS Mexican or Greek Oregano
Chicken Tortilla Soup Garnish:
Low-fat Quark, Low-Fat Yogurt or Low-Fat/Fat-Free Sour Cream
Sliced avocado (optional)
Baked Tortillas Chips (I recommend Garden of 'Eatin Baked Blue Corn Chips with Flaxseed)
Directions on How To Make Tortilla Soup
Remove white breast meat from rotisserie chicken, shredding it with your fingers, and set aside in a bowl. Use the remaining chicken to make homemade chicken stock that can be frozen.
Combine chopped onion, garlic and olive oil in a large pot over medium heat and saute, stirring frequently until the onion begins to soften and become translucent.
Add shredded chicken breast, canned tomatoes, chicken broth and tomato paste to the pot and stir until thoroughly mixed.
Season with cumin, Epazote (optional) and Mexican or Greek Oregano, and stir until combined
Bring the tortilla soup to a boil and then cover and reduce heat to a simmer, cooking for 15-20 additional minutes.
Serve chicken tortilla soup with a scoop (1-2 tablespoons) of low-fat plain yogurt, Quark or low-fat sour cream) and garnish with crumbled baked tortilla chips and a slice or two of fresh avocado (optional.)
Vegetarian/Vegan Substitutions
If you want to prepare a vegan or vegetarian version of this recipe, substitute vegetable stock for the chicken stock and use firm tofu or white beans in place of the chicken. Garnish with soy cheddar cheese and/or silken tofu and avocado.
What To Serve With Chicken Tortilla Soup
There are a number of side dishes that you can serve with Chicken Tortilla Soup.
Consider a bowl of non-fat refried beans, black or pinto beans and a green salad made with a simple vinaigrette made with 1 TBS of olive, walnut or canola oil combined with 1 tsp chopped fresh or jarred minced garlic, 2 TBS fresh lime juice and 1 TBS fresh cilantro.  Garnish the salad with avocado slices, sliced red onion and fresh tomatoes. Que bueno!
Chicken Tortilla Soup Nutrition Information
Amount per serving (about one cup of tortilla soup):
Calories: 264.6
Total Fat: 13.0 g
Saturated Fat: 4.3 g
Polyunsaturated Fat: 1.3 g
Monounsaturated Fat: 6.3 g
Cholesterol: 59.6 mg
Sodium: 396.3 mg
Potassium: 756.1 mg
Total Carbohydrate: 15.8 g
Dietary Fiber: 4.2 g
Sugars: 4.9 g
Protein: 22.1 g
Vitamins & Minerals
Vitamin A: 16.1 %
Vitamin B-12: 6.8 %
Vitamin B-6: 31.4 %
Vitamin C: 29.3 %
Vitamin D: 0.0 %
Vitamin E: 10.8 %
Calcium: 11.3 %
Copper: 11.3 %
Folate: 10.9 %
Iron: 17.2 %
Magnesium: 13.5 %
Manganese: 13.6 %
Niacin: 50.2 %
Pantothenic Acid: 12.6 %
Phosphorus: 24.3 %
Riboflavin: 13.3 %
Selenium: 23.4 %
Thiamin: 8.6 %
Zinc: 8.9 %
*Percent Daily Values are based on a 2,000 calorie diet. Your daily values may be higher or lower depending on your calorie needs.
Comments (7)