Want an economical, low-fat and low-sugar homemade granola recipe? Try this homemade orange granola and be prepared to be blown away.
Oats are considered a fitness power food, and granola is a tasty way to get your daily oats. The problem is that most granola recipes are loaded with sugar. You could buy a low-fat or low-sugar prepackaged granola at the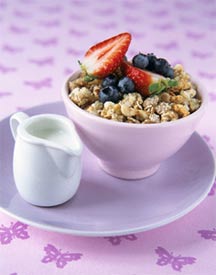 store, something like a Bear Naked Granola, but at nearly $6 a bag, it's more economical to make your own.
This particular recipe uses freshly squeezed orange juice and a touch of honey to naturally sweeten the granola. There is no processed or brown sugar added.
The sugar content is minimal in this recipe and it uses no oil, so the granola is about as pure and close-to-the-earth as it gets. The only fats are the healthy kinds from walnuts, almonds, pecans and flax meal. And the coconut, although high in saturated fat, is plentiful in medium- and short-chain fats, which the body burns more readily for energy.
Best of all, this particular granola recipe is wicked easy to make.  If you aren't crazy about nuts, you can substitute dried fruit like raisins, dried cherries, blueberries, cranberries or even dried apple slices or banana chips. Add these after the granola has been cooked and cooled.
Low-Fat Homemade Vanilla-Orange Granola
Ingredients
3 cups rolled oats
1/4 cup wheat germ
1/4 cup flaxseed meal
1/2 cup chopped nuts, such as walnuts, pecans and almond slivers
1/2 cup honey
1/2 tsp orange peel
1/3 cup fresh squeezed orange juice
1/2 teaspoon real vanilla extract
1 teaspoon cinnamon
1/2 cup organic, unsweetened flaked coconut (I like Bob's Red Mill Unsweetened Coconut Flakes)
Directions
Preheat oven to 325 degrees.
Combine orange juice, honey, cinnamon, vanilla extract and orange peel in a sauce pot and heat over medium-high heat, stirring occasionally, until the honey has melted. Set aside.
In a large glass bowl, combine rolled oats, wheat germ, flaxseed meal, and chopped nuts. Do not add the coconut at this point.
Pour the honey-orange juice mixture over the oat mixture and mix gently until the oats are thoroughly coated.
Spread the oats in a thin layer on a baking sheet and place it in the oven. Bake for 30 minutes, stirring the granola once during the baking cycle (at around the 15 minute mark.)  Add the coconut during the final ten minutes of baking.
Remove from oven and cool.
For best results (and a nice crunchy granola) store the cooled granola in an airtight container or freezer bag in the icebox.
Makes approximately five cups of granola.
Nutritional Information
Serving Size: 1/4 cup
Servings: 20
Calories 151.2
Total Fat: 5.1 g
Saturated Fat: 1.1 g
Polyunsaturated Fat: 2.5 g
Monounsaturated Fat: 1.0 g
Cholesterol: 0.0 mg
Sodium: 2.0 mg
Potassium: 157.5 mg
Total Carbohydrate: 22.7 g
Dietary Fiber: 3.6 g
Sugars: 0.2 g
Protein: 5.2 g
Vitamin A 0.1 %
Vitamin B-12 0.0 %
Vitamin B-6 4.3 %
Vitamin C 2.5 %
Vitamin D 0.0 %
Vitamin E 1.8 %
Calcium 2.1 %
Copper 11.9 %
Folate 6.7 %
Iron 8.2 %
Magnesium 14.5 %
Manganese 77.1 %
Niacin 2.2 %
Pantothenic Acid 4.1 %
Phosphorus 15.7 %
Riboflavin 3.0 %
Selenium 2.3 %
Thiamin 15.0 %
Zinc 8.8 %
*Percent Daily Values are based on a 2,000 calorie diet. Your daily values may be higher or lower depending on your calorie needs.
Comments (14)