A salmon pattie recipe made extra-healthy without sacrificing flavor … and it's even lightly fried!
Whenever I sing the praises of my salmon patties recipe, people who have never had a salmon patty always seem surprised that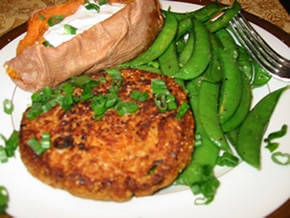 salmon can be "pattied." After-all, isn't salmon something you eat filleted on a cedar plank? They also get that same weirded out look that people get when they first find out escargot are snails.  The thought of fish shaped into a patty probably brings back bad memories of "fish fillet" day in the elementary school cafeteria, so I supposed you can't expect to turn someone into a salmon patty lover over night.
Unless, of course, you can get them to try one — which usually involves me comparing them to crab cakes, which nearly everyone loves. Or, you can just call them salmon "croquettes" and the substitution of a French word for the word "patties" makes them sound gourmet and upscale. Suddenly, people think they are chic and want to try one.
Here's the thing though: Salmon patties are wicked healthy, especially if you make a few modifications to the traditional salmon patties recipes floating around out there.  So if you are trying to add more healthy fats from things like fish into your diet, it's worth your time to at least give this salmon pattie recipe a spin. If you like it, it will probably become a staple recipe in your clean eating diet.
First, a few things you should know about salmon patties and this particular salmon patty recipe.
Salmon Patties Are Easy!
One of the great things about salmon patties is that they are one of the simplest dishes to make, and they don't take any special ingredients or equipment. Think meatloaf, but made out of salmon and pressed into little discs.
You literally can put this salmon patty recipe together in less than 10 minutes with canned salmon and six additional ingredients you probably already have in your pantry and refrigerator.  All you need is a glass bowl, a fork and your hands (that's why they call them "patties.") Cooking time is about 15 minutes, so you can have a healthy, clean meal in less than 30 minutes. And if you make extras (which I would recommend) you can either eat them for lunch or dinner the next day, or freeze them for a later meal.
If you want to make them with fresh salmon the preparation is a little more involved. Since we are trying to limit your time in the kitchen, so you can instead spend it running, working out or staying physically active, we're going to use the tried and true canned salmon, which makes preparation very fast.
This Salmon Patties Recipe Is Healthy!
Generally, most salmon patty recipes are fairly healthy out of the gate, provided you don't fill them up with mayo or fry them in an inch of cooking oil. However, I took the standard salmon patties recipe that my mom made when we were kids, and made a few changes to it to make it even healthier. These include:
Substituting oat bran for the traditional white bread crumbs, which lowers the glycemic load, and adds some healthy soluble fiber
Skipping the whole egg, and instead using three egg whites to reduce the fat slightly, and increase the protein
Frying it in in a non-stick pan with a touch of MUFA-rich walnut oil, instead of the usual 1/4 of cooking oil (you can also bake or grill the salmon patties, if you prefer.)
Seasoning them up with Old Bay Seasoning, which adds a little kick and traditional crab cake-ish flavor, as well as some antioxidants from the herbs and spices in the mixture.
The healthiest part of this salmon patties recipe, though, is the salmon itself, which is rich in heart- and brain-healthy Omega-3 fatty acids. Salmon is one of the best whole food sources of Omega-3s and healthy polyunsaturated fats, and because fish in general is high in protein, it's a great high-protein food to help you add muscle and stay fit. If you are a tuna lover, you might want to consider adding more salmon into your diet — it has four times the Omega-3s and 20 times the calcium of canned tuna.
How To Make Salmon Patties
Making salmon patties is really as simple as opening up a can, mixing a couple ingredients together in a bowl, forming the mixture into patties and then lightly frying or baking the patties until they are crispy on the outside, but still tender on the inside.
That's it. I told you they were easy.
What About Those Bones and Skin?
If you've never used canned salmon before, you should be prepared for a little bit of a surprise when you open up the can. Canned salmon, whether pink or red sockeye salmon, is typically canned with some bones and skin still in the fillet. However, because the salmon is heated to a high temperature as part of the canning process, the bones are soft and completely edible (unlike a fresh salmon fillet.)
The bones and skin are also great sources of highly-digestible calcium and health Omega-3s, so if you want to leave them in, go ahead — they're good for you. The bones and skin will blend together with the salmon, and you'll never even know they were in their when you eat the final product. They don't have a negative impact on the flavor or texture, so as long as you can get over the idea of having some "bones" mashed up in your patties, leave them in.
If you'd prefer to leave the bones and skin out, before you mix the canned salmon with the other ingredients, simply use a spoon to scrape off any of the skin and scoop out the bones. They should pull away from the fish very easily.
So let's get on to the recipe itself.
Salmon Patties Recipe Made Easy, Fast and Healthy
Makes 4-5, 5 oz (114 g) salmon patties
Ingredients
1 can (14 3/4 oz) canned Red Sockeye or Pink Salmon (I prefer Sockeye, which has a deeper red color, a little more flavor and is higher in Omega-3s than Pink Salmon.)
1 tbs fresh lemon juice, or one packet True Lemon
1-1/2 tbs Dijon style mustard
3/4 cup oat bran or quick oats
2 tbs dried onion flakes
1/2 cup sliced green onions (white part and some of the green) — Optional
Three egg whites
1 tsp Old Bay Seafood Seasoning
Salt and Pepper to taste
Directions on How To Make the Salmon Patties
In a large glass mixing bowl, (reserving some of the "broth" on the can) drain and flake the salmon. If you want to remove the skin and bones, do it at this point and discard them (or feed them to the cat or dog!) Add the lemon juice or Real Lemon,  egg whites, dried onion flakes, Dijon mustard and Old Bay seasoning to the bowl and mix until well blended. If the patties are a little too dry, you can add a bit of the salmon broth you reserved from the can, or a bit of water. If they are too moist, add a tbs or two of additional oat bran or quick oats. The salmon patty mixture should be fairly most and easy to form into a patty, while retaining it shape and not "cracking." If the salmon patty "cracks" when you are forming it, it's too dry and you should add some a tablespoon or so of water or salmon broth.
Form the mixture into four to five patties, placing each patty on waxed paper while making the others.
Lightly oil a non-stick pan with 1 tbs of walnut, olive or canola oil. Add the patties and cook over medium-high heat until golden brown on both sides (about 10-15 minutes.) Or, you can bake the salmon patties in the oven until golden brown at 350 degrees. You can also grill the patties.
Serve the salmon patties on their own with brown rice or brown rice pilaf and a side vegetable, or a baked sweet potato with low-fat quark and vegetable. You can also serve the patties burger style with the usual burger condiments on a 100 percent whole wheat bun, or between two slices of of toasted Ezekiel 4:9 sprouted grain bread.
Salmon Patty Recipe Nutrition Information
Serving size: One five ounce (114 g) salmon patties
Calories: 192
Total Fat: 10.1 g
Saturated Fat: 2.2 g
Trans Fat: 0
Cholesterol: 56 mg
Sodium: 556 mg (may be less depending on brand)
Total Carbohydrates: 5.8
Dietary Fiber: 1.3
Sugars: 0.0
Protein: 21.9 g
Vitamins and Minerals
Vitamin A: 2.8 %
Vitamin B-12: 0.0 %
Vitamin B-6: 1.8 %
Vitamin C: 2.6 %
Vitamin D: 0.0 %
Vitamin E: 0.2 %
Calcium: 14.8 %
Copper: 1.8 %
Folate: 1.6 %
Iron: 4.7 %
Magnesium: 9.5 %
Manganese: 17.5 %
Niacin: 0.4 %
Pantothenic Acid: 1.0 %
Phosphorus: 18.7 %
Riboflavin: 0.9 %
Selenium: 3.8 %
Thiamin: 4.2 %
Zinc: 4.3 %
Comments (11)