Try This Tasty Sprouted Whole Grain Cereal The Next Time You're Looking for a Healthy Breakfast Cereal
It's becoming easier than ever to find healthy, organic whole-grain cold cereals at the grocery store. Just a few years ago, eating whole grain for breakfast generally meant some type of bran flakes. But today, there are dozens of options, from cereals made with exotic grains like kamut, spelt and quinoa, to low-sugar, low-fat versions of breakfast granola.
One of my favorite cold cereals is Ezekiel 4:9 sprouted whole grain cereal. Once you get past the goofy Biblical name and scripture references on the box, you'll find an excellent whole grain cereal that is high in protein and fiber and low in fat.
Ezekiel 4:9 is made with sprouted grains and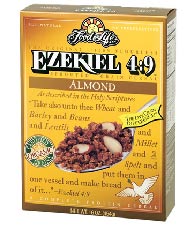 beans, specifically wheat, barley, soy and lentil beans, spelt and millet. The recipe is an ancient one, going back to the Old Testament (it was actually a recipe for making bread, not cereal — Ezekiel 4:9 also offers a line of sprouted grain breads as well) and the company, Food for Life, modified the basic Biblical recipe to make a line of sprouted grain products.
But how can sprouted grains make a crunchy cereal? After all, aren't sprouts green?
Apparently you can sprout grains and then dry them and make a cereal or bread from it.
According to Food for Life, sprouted grains are more nutritious and release more healthy enzymes. I can't vouch for this, but the cereal itself is nutritionally solid.
Because it's made with beans and several whole grains, it's a complete protein on its own, which is not common in many breakfast cereals. It also has an excellent vitamin and mineral profile, without having a single synthetic vitamin added to the cereal (unlike many mainstream, fortified cereals.)
Also, because the grains aren't ground into flour, the Ezekiel 4:9 cereal doesn't have the same effect on blood sugar that more refined, flour-based cold cereals suffer from. The high fiber and truly whole-grain ingredients in the cereal reduce it's glycemic load and reduce it's impact on blood sugar.
So how does it taste?
If you're expecting something sugary, this won't be the cereal for you.
Ezekiel 4:9 tastes remarkably similar to Grap-Nuts, and even has a similar texture. Like Grap-Nuts, the flavor is slightly malty and very crunchy.
The cereal comes in three varieties, Golden Flax, Original and Cinnamon and Raisin. There is no added sugar, which means that you may need to sweeten the cereal up slightly with some fresh fruit like bananas, apples or blueberries or even some additional dried fruit like cherries or cranberries.
The cereal is also very easy to digest, and I find that I don't have some of the same bloating issues with Ezekiel 4:9 that can come with higher-fiber bran cereals made from whole-grain flour.
I checked the Food for Life website, and there is actually an explanation for this. Apparently, when you sprout the grain, the carbohydrates in the grain are converted into maltose, which is ordinarily done by the body during digestion. This pre-digests the nutrients for you.
If you're not a big cold breakfast cereal person, try including some Ezekiel 4:9 into your homemade granola, or kick it up a bit with some dried fruit for a portable trail mix snack.
In terms of cost, a 16 oz box will run you between $5-$6 dollars — definitely not inexpensive. But like many organic whole grain cereals, you pay for what you get. The cereal itself is pretty satisfying, so a 57 gram serving usually does the trick when combined with some skim milk.
If you can't Ezekiel Bread 4:9 at your local grocer, try a health or organic food store.
Nutritional Information – Ezekiel 4:9 Sprouted Whole Grain Cereal (Golden Flax)
Serving Size: 1/2 cup (57 grams)
Calories: 180
Fat: 2.5 grams
Saturated Fat: 0 grams
Trans Fats: 0 grams
Cholesterol: 0 mg
Sodium: 190 mg
Potassium: 190 mg
Total Carbohydrates: 37 grams
Dietary Fiber: 6 grams
Sugars: 0 grams
Protein: 8 grams
Vitamin and Minerals*
Vitamin A: 0%
Calcium: 0%
Thiamin: 15%
Niacin: 15%
Folic Acid: 6%
Phosphorus: 15%
Zinc: 8%
Vitamin C: 0%
Iron: 10%
Riboflavin: 6%
Vitamin B6: 10%
Panthothenic Acid: 15%
Magnesium: 15%
Copper: 10%
Comments (20)