This heart-smart, no bake cookie recipe will satisfy your sweet tooth and help keep you lean and healthy.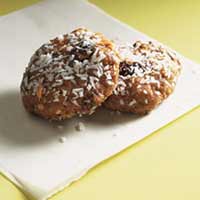 Got a chocolate craving you just cant make go away?
Try this healthy version of the traditional no bake cookie when fruit alone wont solve your cravings.
Loaded with protein, soluble fiber from oats and heart-healthy monouns aturated fats from the peanut butter, this is a great substitute for a sports or nutrition bar, which are often high in sugar and high-fructose corn syrup.
The best part is you can mix this recipe up in less than five minutes, and eat it straight from the bowl (go ahead, its GOOD for you) or refrigerate it for a great, healthy snack the next day.
Healthy No Bake Cookies
Ingredients
1 packet Kashi Instant Heart to Heart Golden Maple Oatmeal
1 tbs natural peanut butter
1 scoop chocolate whey powder
2-3 tbs water
1 tbs organic, unsweetened coconut (optional)
1 tbs salted, chopped peanuts (optional)
Directions
In a small bowl, combine the first four ingredients and mix thoroughly.
Eat directly from the bowl, or cover a plate with waxed paper, spoon out the batter on to the waxed paper, sprinkle with coconut and refrigerate until firm.
Also, if you like a sweet and salty flavor, add 1 tablespoon of chopped or whole salted peanuts.
Nutritional Information
Serving Size: One recipe
Calories 389.8
Total Fat 10.6 g
Saturated Fat 1.5 g
Polyunsaturated Fat 0.4 g
Monounsaturated Fat 0.4 g
Cholesterol 0.0 mg
Sodium 191.0 mg
Potassium 399.0 mg
Total Carbohydrate 47.1 g
Dietary Fiber 5.7 g
Sugars 23.6 g
Protein 27.7 g
Vitamin and Mineral Information
Vitamin A 25.0 %
Vitamin B-12 100.1 %
Vitamin B-6 100.7 %
Vitamin C 50.1 %
Vitamin D 0.0 %
Vitamin E 0.0 %
Calcium 1.8 %
Copper 5.4 %
Folate 100.0 %
Iron 11.9 %
Magnesium 24.8 %
Manganese 76.4 %
Niacin 3.0 %
Pantothenic Acid 2.2 %
Phosphorus 2.9 %
Riboflavin 3.6 %
Selenium 0.0 %
Thiamin 11.3 %
Zinc 10.1 %
Percent Daily Values are based on a 2,000 calorie diet. Your daily values may be higher or lower depending on your calorie needs.
Comments (6)