Food For Lifes Ezekiel 4:9 Sprouted Grain Bread Is A Crunchy, Healthy, Protein-Balanced Slice of Organic Goodness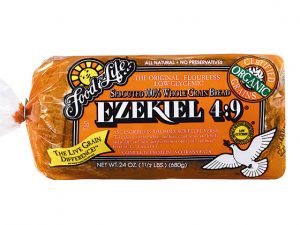 Bread made without flour? Out of sprouted grains, legumes and seeds? This couldnt possibly taste good, could it?
In the past, Ive sung the praises of Food for Lifes Ezekiel 4:9 sprouted grain cereal.
Based loosely on a Biblical recipe culled from the Book of Ezekiel, Food for Life (the company that makes Ezekiel bread) has introduced a whole line of sprouted grain foods that run the gamut from Cereal
, to bread to pasta
?and even?tortillas.?
Regardless of how you feel about the scriptural roots of these foods (or even your interpretation of the related Biblical passages and there are many), the folks who make Ezekiel 4:9 bread and cereal are on to something. At the end of the day, you could be a pagan and still benefit from this bread.
While it seems inconceivable that you could make a crunchy cereal or fluffy, light loaf of bread out of sprouted grains and beans, Food for Life has figured out how to do it.
And even better, theyve done it without sacrificing nutrition, flavor or using preservatives or sweeteners like high fructose corn syrup.
In the case of Ezekiel 4:9 Sprouted Grain Bread, the result is an organic, nutritionally-dense, high fiber bread that also is a complete protein one of the few breads on the market that contain all 9 essential amino acids, is low in fat, has no?Trans Fats?or cholesterol and is generally low in?sodium.?
About Ezekiel Bread: What Is It & How Do They Make It
Ezekiel Bread is made from six organic?grains and legumes? whole wheat,?malted barley, whole millet,?whole?barley, whole lentils, whole soybeans, and whole spelt? which are sprouted and then combined together to make a bread.?
Not only?does the sprouting process create a?more easily digested food, but?it also creates a whole protein that closely parallels the protein found in milk, eggs and whey. In fact, Food for Life claims that the protein quality is so high, that its 84.3% as efficient as the highest recognized source of protein. In all, Ezekiel Bread?has?18 amino acids? all from?vegetable sources and naturally balanced.??
Even better, the ingredient list is short (always a good sign especially when you are trying to follow a Clean Eating diet), containing only 10 whole, natural ingredients.
Ezekiel Bread and Weight Loss: The Sprouted Grain Difference
Ezekiel 4:9?Bread, as part of a Clean Eating diet plan, may also help you lose body fat and weight. Ezekiel bread?is low on the glycemic index, making it an excellent bread choice for people who are trying to eat more?healthy, complex carbohydrates, as well as diabetics.
Typically,?low-glycemic foods are better for diabetics and people trying to lose weight because they?discourage blood sugar spikes associated with higher?gylcemic foods.? Whole grains and foods?that are lower on the gylcemic index have been shown?to reduce the?incidence of Type II diabetes and to help control Type I and II diabetes, hypoglycemia and hypertension. Low Glycemic,?high fiber, whole grain foods?may also be?helpful in reducing the risk of heart disease.
The sprouting process creates maltose a grain sugar which is the slowest absorbing sugar in the human body. This?produces a lower glycemic response, making it ideal for people who are trying to lose body fat or control their blood sugar (such as diabetics.)
How Does Ezekiel Bread Taste?
Ezekiel bread is sold frozen, typically in your grocers freezer case. I personally prefer it toasted, since I think the toasting process enhances the flavor and creates a very light, crunchy texture to the bread which is almost unparalleled by any other whole grain bread on the market.
I typically eat it as toast in the morning, with some natural peanut or almond butter and topped with a sprinkling of cinnamon and raisins or dried cranberries. It also makes a very good sandwich bread. However, Ive found that it benefits from a light toasting to give it a little structure and additional flavor.
I am a bit perplexed by some of the criticisms of the Ezekiel bread as tasting bland or bad.
I just dont get this.? Ive tried a number of competiting sprouted grain breads on the market (including a sprouted Hemp bread which was just plain funky and almost unedible with some really odd off flavors) and I find the Ezekiel bread products to not only be extremely palatable, but superior in texture to many whole grain breads.? While the Ezekiel bread is a bit drier and a touch courser than a softer, 100% whole wheat bread made from flour, overall this is much less dense than traditional whole grain artisan wheat or rye breads.
Some people have suggested that this is simply a reaction of people who arent used to eating unprocessed, whole grain breads and that their palettes havent acclimated. I tend to agree.
Food for Life offers the Ezekiel bread in a number of different flavors and products, including:
?The orginal Ezekiel 4:9 sprouted grain bread
?Ezekiel 4:9 whole sprouted flourless sesame burger buns
?Genesis 1:29 sprouted grain and seed bread (basically, the Ezekiel bread recipe with seeds added)
?Ezekiel 4:9 cinnamon bread
?Ezekiel 4:9 flourless, sprouted grain English muffins
?Ezekiel 4:9 tortillas
Is Ezekiel 4:9 Bread Gluten Free?
While the base Ezekiel 4:9 sprouted grain bread products are not gluten-free, Food for Life does off a line of gluten-free breads.
Where To Buy Ezekiel Bread and Products
You can purchase Ezekiel Bread from a number of different sources, including your local grocer (look in the freezer case) or health food store (like Whole Foods) or online here at Amazon.com
. To find a store near you, use this store finder.
Ezekiel Bread Nutrition Facts
Ezekial 4:9 Sprouted Grain Bread (Original Flavor)
Serving: 1 slice (34 grams)
Ezekiel Bread Calories: 80
Total Fat: 0.5g
Saturated Fat: 0g
Trans Fat: 0g
Cholesterol: 0mg
Sodium: 75mg
Potassium: 80mg
Total Carbohydrates: 15 g
Dietary Fiber: 3g
Sugars: 0
Protein: 4g
Vitamins and Minerals
Thiamine: 8%
Phosphorus: 8%
Riboflavin: 2%
Niacin: 6%
Zinc: 4%
Iron: 4%
Vitamin B6: 4%
Ezekiel Bread Ingredients
Organic Sprouted Whole Wheat, Water, Organic Honey, Molasses, Organic Sprouted Whole Rye, Organic Sprouted Whole Barley, Organic Sprouted Whole Oats, Organic Sprouted Whole Millet, Organic Sprouted Whole Kernel Corn, Organic Sprouted Whole Brown Rice, Fresh Yeast, Soy Lecithin, Malted Barley, Sea Salt.
Comments (22)