Ask yourself these nine questions to make sure youre choosing the perfect gym before you sign the contract.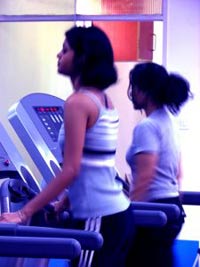 Whether you are looking to get in-shape and choosing a gym or fitness club for the first time or have a current gym membership and are looking to make a change, finding the right place to work out can be a confusing and intimidating process, especially for beginners.
But it doesnt have to be this way.
The International Health Racquet & Sportsclub Association (IHRSA) estimates that in 2006 there were 29,000 commercial fitness centers in America. If you live in a major metropolitan area, you can expect to find between 10-25 fitness centers competing for your membership. In smaller towns, your choices may be more limited, but between local rec centers, nearby colleges, the YMCA and commercial g
yms, its easier than ever to have access to a gym, regardless of your location.
So with so many options, how do can you be sure youre making the right choice?
It really comes down to your fitness goals and personal preferences.  But you can take some of the uncertainty out of finding a fitness club by asking yourself a few questions:
What is my level of fitness experience?
People who are just starting down the path of a healthier lifestyle have very different initial needs from people who have been going to the gym for years.
If this is your first time in the gym, youll need extra attention from the staff to help you understand how the equipment works, how to perform certain exercises without causing injury, and even guidance creating basic exercise and diet plans.
If you are a beginner, look for a gym that at a minimum provides some free instruction in equipment usage as part of the membership. Many gyms especially the larger chains like Lifetime Fitness have personal trainers on staff and will include some free training and nutritional assessment as part of your membership. If youre not certain whether a gym or fitness center offers this, ask to be sure.
If you are a more experienced gym-goer, the initial consultation wont be as important to you. In the case of advanced trainees, youll probably find yourself focusing more on the actual equipment at the gym and the overall atmosphere, versus the level of initial instruction. Even then, joining a gym that has a staff of people who are knowledgeable and willing to answer questions is critical regardless of your experience level. Even the most experienced people will sometimes want someone to check their form and if the staff isnt properly trained or unwilling to do this, you may want to reconsider.
What is my lifestyle like?
Are you a person who gets up at the crack of dawn ready to seize the day, or a night owl who finds that they get their second wind at 10 pm? Finding a gym that works with your personal schedule is critical.  What are the hours of the fitness club, and what kind of support staff do they maintain during those hours? If you think youll want the services of a personal trainer, how well staffed are they at 10 pm, for example (which may be the only time you can hit the gym.)
Also be aware that you are likely not the only one who likes working out at 7 a.m. Ask the gym what their busiest times are so you can get an idea of whether youll be able to get on the equipment when you want to. Better yet, visit the gym during the time that you think youll be using it to get a feel for what the traffic and crowd is like. The 7 a.m. crowd is likely very different from the 2 p.m crowd which is very different from the late night crowd. Morning exercisers tend to be older or young professionals hitting the gym before heading to the office, afternoons are usually lighter and are favorites of housewives, and evening are often dominated by younger gym-goers (especially teens, if your gym allows them.)
Finally, if flexibility of hours is important to you, there are a growing number of gyms that are open 24-hours. Again, be sure to find out how well-staffed they are doing the off hours, since training services may be limited to regular business hours and early evenings.
What are my fitness goals?
Your personal fitness goals are an important factor in determining the type of gym thats best for your needs. Any gym should have a good mix of cardio equipment, free weights and resistance training machines. But depending on what you are trying to accomplish, the ideal ratio of that equipment (as well as the types of equipment) may vary.
For example, if you are primarily trying to lose fat and improve your cardiovascular healthy, you will want to be sure that the gym has plenty of treadmills, elliptical trainers, stair-steppers and bikes. Variety is the spice of life (and fitness), so try to think ahead. Those long walks or runs on the treadmill may seem like your cup of tea today, but expect that you will eventually get bored. When you visit the gym or health club, be observant. Do they have enough diversity in cardio equipment to keep you engaged and challenged for the long-haul?
On the other hand, if your goal is to add muscle and improve coordination, does the gym have a good selection of resistance machines and free weights? If you are an advanced trainee or body builder, you may have certain areas you want to improve. In those cases, does the gym have the equipment to support your ongoing goals?
Each individuals goals are just that: individual. Take the time before you visit health clubs or gyms to ask yourself what you are hoping to accomplish. It will help you know what to look for and what questions to answer.
What is the Equipment Like?
Depending on your goals and level of experience, pay attention to the selection of equipment, and especially its condition. Are there a lot of Under Repair signs stuck on the machines? Look at the seats, benches and grip bars on equipment. Are they worn, cracked or in need of repair? Does the gym seem to have a smaller selection of machine and free-weights than other gyms youve visited in the area? Do they have a functional workout area dedicated to things like Swiss balls, foam rollers and even punching bags?
Again, advanced trainees and bodybuilders will want to make sure the gym has plenty of available (and functioning) resistance machines and standard free-weight weight training equipment like squat racks,  pull-up bars, dip stations, benches, Smith Machines and free-weights.
What is the Atmosphere?
Gyms and health clubs can vary dramatically in terms of the atmosphere and the clientele that they attract.
As a rule of thumb, the more free weights the gym has, the more bodybuilders (male and female) theyll attract. This isnt stereotyping, its reality.  Gyms with an equal mix of cardio equipment, resistance-training machines and free weights will attract a more equal mix of beginners, intermediate and advanced trainees.
Health clubs that have a higher ratio of weight machines and cardio, will attract more beginners. Crunch, for example tends to attract a younger, hipper, more urban crowd (some would argue Crunch is more about hooking-up, than working out), yet something like Curves is geared more toward people who are trying to gain some strength, lose some fat, and do it in a low-pressure environment.  Neither is better than the other, just different, depending on your goals.
Do I Like the Clientele?
Take note when you visit a health club or gym of what the clientele is like. If you visit a gym with a lot of extremely buff members, ask yourself whether that will personally encourage or discourage you.  Working out should be something that you feel comfortable doing. If the other members turn you off, take a pass. No one should feel out-of-place in a gym. If you dread going there because you are surrounded by 21 year olds with perfect abs, then that particular gym probably isnt right for you. Keep looking. Some gyms, like the controversial Planet Fitness franchise, have certain policies that discourage specific clientele or behavior. In those cases, its important to know what the code of conduct is BEFORE you sign the contract.
How is the Gym Maintained?
Also, pay close attention to the little details in a gym or fitness club, especially when it comes to how the owners maintain their facility. Is it clean? Are the bathrooms, showers and locker-rooms well-maintained? Are the carpet or floors stained?  Is there heavy metal blaring over the PA (and you HATE heavy metal.) Like any relationship, dont expect the gym to change for you, no matter how much you ask.  What you see, generally, is what you get. Bottom line is that if you feel unwelcome in a gym or club  or if you cringe at the missing tiles and Under Construction tape running across three of the four showers  then keep looking. The gym isnt right for you.
How important are the Extras?
A lot of gyms will sell you on the free amenities. At the end of the day, like everything else, you have to ask yourself whats important and are you willing to pay for it? Higher-end fitness clubs and gyms will provide you with scores of little extras that can make your life easier, but you have to ask yourself, is it worth the price? Towel service, shampoo and soap in the showers, free training or nutrition consultations, permanent lockers, discounts on supplements or sports bars, and even pools and water parks for the kids, can all save time, money and headaches. But expect to pay more in your base membership for these types of luxuries. Remember, nothing comes for free.
What Am I Willing to Spend?
What are you willing to pay for a gym or fitness club membership?
This, of course, is the ultimate question.  Gym memberships can range anywhere from $10 dollars a month with a $100 dollar membership fee, to hundreds of dollars in initial fees and a $50-$70 dollar monthly fee.  The simple answer to this question is how dedicated are you, what inspires you to stay fit,  and how often do you intend to use the gym?
Something to consider: According to IHRSA, 50 percent of all new health club members quit within the first six months. Quit doesnt mean they cancel their membership and walk away, money in their pocket. Quit means the just stop going, and then pour six months of their membership dues down the drain.
This isnt meant to discourage you. Rather, its intended to provide you with some sound financial advice: Dont get locked into any gym or membership until youve determined whether the particular gym meets your needs and expectations.  If you are a beginner, consider trying a lower-cost gym to feel-out whether its right for you. As you gain experience, it will be easier to spot the perfect fit.
The Takeaway
There is no perfect gym for everyone. Do your research, ask questions, be observant and know your goals and youll likely find a good fit.
Comments (3)