Learn the basics of weight training and start burning more fat, increase your strength and get more fit than ever before.
The research is in: Including weight or resistance training into your weekly workout makes good health and fitness sense, regardless of your level of experience.
You know the benefits of weight training, so now its just a matter of doing it.
But before you hit the weights, you should take a few minutes to understand the key principles to effective weight and resistance training.  Having knowledge of these tried-and-true rules of weight training will ensure that you make progress in the gym, no matter what your individual health and fitness goals may be.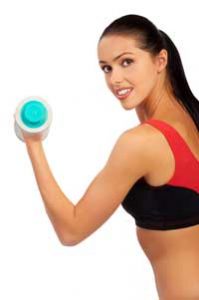 There is a lot of jargon thrown around by fitness trainers and gym-goers that you need to understand. Sometimes it can seem like a foreign language, but once its been explained in plain language (we like to call this gumping things at the office), it will make all of the sense in the world.
The Basics of Weight Training: What You Need to Know To Get Started
Okay, so youre convinced you need to start including weight training in your workout routine.
Great. Now where do you begin?
Lets start with the four basic principles of weight training:
Overload: This just means you expose your muscles to more weight, resistance or stimulus than they are used to performing during your normal every day activities.  To do this, you need to lift an amount of weight that only allows you to complete the intended amount of repetitions. Remember, your overload weight will increase as you continue training and your body recovers and adapts. Which takes us to the next concept, progression.
Progression: Progression means that you continually overload your muscle with more stimulus each time you weight train.  Since your muscles are constantly adapting, you will never get stronger without increasing the force they have to exert or the amount of work they do. Progression doesnt necessarily always mean adding additional weight. You can overload the muscle progressively in a number of different ways, including performing more reps with the same weight, increasing the volume (total number) of sets performed, changing the tempo or pace of your repetitions to keep the muscle under tension for longer periods of time, or simply lifting more weight than last time. The key here is to always push your muscles harder than the last workout in some fashion.
Specificity: Specificity is a fancy term for performing weight training with a specific and distinct goal in mind. So if your goal is to add additional muscle mass, your choice of exercises, repetitions, sets and weight used will be different than if you are training your muscles for endurance.  Know your goals before you start weight training, since it will impact how workout routine.
Rest and Recovery: There is a common saying that muscle is built outside of the gym, not in it. Weight training stresses your muscles and requires that you allow yourself adequate rest and recovery time. Typically that will mean giving your muscles 48 hours to recover before training that same muscle or group of muscles again. Understand that recovery time is highly individual. Some advanced trainees need less recovery time than beginners. And the intensity of your weight training will in large part determine the length of rest thats right for you.
Next up, well learn about choosing the appropriate weight,  repetitions (reps),  and sets to meet your goals.
As always, you should consult your physician before undertaking any resistance, weight or cardio training program.
Comments (6)