Find out how adding weight training into your fitness routine can pay off big with more muscle and less fat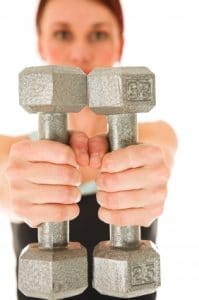 Weight training is one of the most effective additions anyone can make to their workout routine. It improves overall strength; encourages a more lean, toned appearance; can reduce the risk of injury (especially as you age) and is a potent metabolism booster, helping you burn fat even when you arent exercising.
Yet many people never even start weight training because they either dont know where to begin, are intimidated by the idea of lifting weights, or think weight training is something only bodybuilders or power lifters can benefit from.
What Exactly Is Weight Training?
Weight training is simply performing an exercise under resistance or with added weight to challenge the muscle to become stronger and larger.
When you weight train, you are resisting the force of gravity (which is increased by adding weight to the movement) during the exercise. You can increase resistance by adding additional weight in the form of dumbbells or weighted bars, or by utilizing a cable and pulley-based weight machine or cable-station.
Weight training improves strength and increases muscle size because it overloads the muscle and works it beyond what is normally required every day to meet your basic physical needs. This overload literally damages the muscle. However, the body, being the wonderful machine it is, responds by repairing the muscle in a way that over time allows it to meet the increased strength needs that regular weight training requires. So you get stronger over time, and your muscle also becomes larger to meet the demand.
The Benefits of Weight Training
Weight training has a number of benefits, regardless of your age or gender.  Ongoing weight training:
increases muscle strength
strengthens connective tissue like ligaments and tendons, which can prevent injury
improves bone density, which can help prevent osteoporosis in both men and women
increases your lean mass, which causes you to burn more calories even when you arent exercising
provides a post-weight training metabolism boost that causes your body to burn more calories for up to 48 hours
improves your physical appearance and muscle definition
boosts endurance and cardiovascular health
In fact, weight training has been shown to have so many positive effects on your health, that the U.S. Government has made it a public health goal that, by 2010, at least 30 percent of Americans will be performing strength-training workouts at least twice a week. In 2004, that number was around 20 percent.
Weight Training For Women: The Next Big Thing?
And weight lifting isnt just for male bodybuilders or football players.
Women are adding weight training into their workout routines at record numbers because its one of the most effective ways to change body composition, while also reducing bone-loss and improving overall health and physical fitness.  A 2006 study by the U.S. Centers for Disease Control and Prevention found that 1 in 5 American women perform at least 2 sessions of weight training a week.
While many women still have reservations about weight training due to myths around bulking up,  weight training is rapidly gaining popularity among females, and its no longer unusual to see women working out in the free weight room alongside men.
Weight Training Benefits for the Elderly
Lifting weights might seem better suited to a younger crowd, but again, the research on weight and resistance training shows benefits for all ages, especially seniors and the elderly.
As people age, they experience a loss of muscle mass, also known as sarcopenia. This typically begins around age 50, but increases dramatically after age 60.
Scientists dont completely understand the mechanisms behind this rapid loss of muscle mass, but there are likely several factors at play, including decreased testosterone, growth hormone and insulin-like growth factor-1 levels; increases in catabolic compounds; as well as muscle wasting from the reduction in activity that often accompanies getting older.
Sarcopenia may also be one of the reasons that older people experience slower metabolism as they age.  Muscle consumes energy even while at rest, and decreased muscle mass can eventually reduce the amount of calories you need to consume to maintain your current weight.
However, regular weight training appears to lessen muscle loss in older males and females, alike. And the earlier you start, the better, since having more lean muscle to begin with lessens some of the effects of the age-related loss of tissue.
New guidelines from the American College of Sports Medicine suggest strength training two or three times a week. Be sure to give your muscles at least one day of rest between workouts.
The Takeaway
Regardless of your age, gender or previous training experience, adding weight training into your regular workout can help you reduce body fat, increase strength and improve overall health and fitness.
Next up: The basic principles of weight and resistance training that youll need to know to get started.
As always, you should consult your physician before undertaking any resistance, weight or cardio training program.
Comments (11)