Looking for a healthy start to your day? Try this recipe for low-fat oatmeal protein pancakes made extra-rich with an unexpected ingredient: low-fat cottage cheese!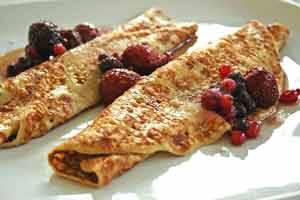 Pancakes and waffles arent typically considered health foods. They are usually high in simple carbs (especially when you add syrup or powdered sugar), high-in-fat thanks to the oil and butter, and generally low in protein.
But with a few changes in ingredients, it is possible to have your Sunday morning pancakes without even knowing that that you are eating a low-fat, high-protein version of a food that is usually off-limits for people
trying to eat healthy.
This recipe, courtesy of Liz Fitness,  uses low-fat cottage cheese to as a replacement for the usual oil and whole eggs in pancakes; replaces the highly-refined, high-glycemic pancake mix with whole grain oats, and uses fresh berries as a sweet and healthy alternative to the typical puddle of Log Cabin syrup.
Even better, the cottage cheese and egg whites in the recipe help boost the protein content of these pancakes, making this a perfect breakfast before heading to the gym.
The addition of an artificial sweetener like Splenda is optional. Try pureed fresh stawberries, mashed raspberries and even sliced bananas for a touch of sweetness. Sprinkle a touch of cinnamon or nutmeg on top.
Or splurge a little bit with a tablespoon of REAL maple syrup, which only adds an additional 50 calories to the recipe. Instead of butter, try a tablespoon of natural peanut butter which is rich in healthy fats. This tastes particularly well with the maple syrup.
Low-Fat Oatmeal Protein Pancakes with Cottage Cheese
Recipe makes two servings of three, 1/4 cup pancakes
Ingredients
1/2 cup egg whites
1/2 cup oats
1/2 cup low-fat cottage cheese
1/8 teaspoon baking powder
1/2 cup frozen, warmed berries with their juices as a topping or sugar free syrup
Splenda to taste
Directions
Blend first four ingredients until smooth (I use the magic bullet; if you use a blender be sure to put the wet ingredients in first)
Pour approximately 1/4 cup batter for each pancake onto heated griddle or non-stick pan (check to see if its hot enough with a splash of water-if it sizzles, its hot enough)
When pancake bubbles, flip and cook the other side
Top with frozen, organic strawberries-warmed and sliced and poured over the top with their juices. Or substitute fresh or frozen blueberries, raspberries, blackberries or bananas.  You can use Splenda to taste.
Nutrition Facts
Makes 2 Servings (Three ¼ cup pancakes with ¼ cup strawberries)
Amount Per Serving
Calories: 254.5
Total Fat: 3.3 g
Saturated Fat: 0.8 g
Polyunsaturated Fat: 1.0 g
Monounsaturated Fat: 1.0 g
Cholesterol: 2.3 mg
Sodium: 280.0 mg
Potassium: 297.8 mg
Total Carbohydrate: 33.8 g
Dietary Fiber: 5.3 g
Sugars: 2.5 g
Protein: 21.3 g
Vitamin A 0.9 %
Vitamin B-12 5.9 %
Vitamin B-6 5.0 %
Vitamin C 37.9 %
Vitamin D 0.0 %
Vitamin E 2.4 %
Calcium 9.1 %
Copper 14.4 %
Folate 9.5 %
Iron 13.2 %
Magnesium 19.5 %
Manganese 104.0 %
Niacin 3.5 %
Pantothenic Acid 7.1 %
Phosphorus 29.7 %
Riboflavin 9.9 %
Selenium 7.8 %
Thiamin 21.4 %
Zinc 12.2 %
*Percent Daily Values are based on a 2,000 calorie diet. Your daily values may be higher or lower depending on your calorie needs.