Is eating raw eggs healthy, or even safe? Just because Rocky did it, doesnt mean you should be using raw eggs in your diet.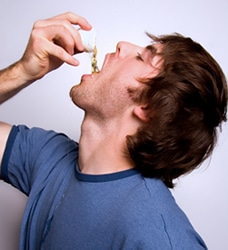 Dear Fitness Nerd,
One of the guys at the gym recommended drinking raw eggs in place of one of my protein shakes. He said eating eggs raw, instead of cooked, is more natural and healthy and makes more of the proteins available to the body. Is there any truth to this? Ive heard that eating raw eggs can make you sick. Who is right? Thanks Mark (Shaker Heights, Ohio)
Great question Mark.
The whole idea that athletes, boxers and bodybuilders should drink raw eggs is one of the most persistent and enduring diet myths out there. While it certainly is true that some athletes do eat or drink raw eggs, this isnt necessary, or even healthy. Just because someone does something, doesnt mean it makes sense.
Eating Raw Eggs: How Did It Get Started?
The idea that eating raw eggs is a better way to build muscle or become strong goes back over a century.
In the 1890s a fitness and nutrition guru named Bernarr Macfadden recommended eating a diet of raw eggs, coupled with whole grains and fruits. Bodybuilder Charles Atlas  father of the Dynamic-Tension training plan popularized by  ads in comic books was a big fan of eating raw eggs, and included them in his diet recommendations. Ironically, Atlas probably picked up the idea of eating raw eggs from Macfadden, who dubbed Atlas The Worlds Post Perfectly Developed Man in 1921. Even Arnold Schwarzenegger advocated drinking raw eggs mixed with cream when he was preparing for his first Mr. Olympia.
However, the idea that eating raw eggs is somehow more healthy and will make you get bigger in the gym really got a boost in the PR department in 1976 when millions of people watched Rocky Balboa down pitchers-full of raw eggs while he trained to take on Apollo Creed in the the original Rocky movie.  The enduring popularity of the movie ensures that new generations of Rocky-wannabes get re-exposed to the raw egg myth nearly every weekend on cable T.V.  After all, if it worked for the Italian Stallion or Arnold, it must be a good idea, right?
Not so fast.
So Why Would You Think Raw Eggs Are Healthy?
Like all myths, there is usually a grain of truth and some decent rationalizations underneath the surface. And the myth that eating raw eggs is healthier than cooked eggs is no exception.
Eggs, whether raw or cooked, are extremely high in digestable protein. They also are high in B Vitamins, which can help with cellular repair and improve energy levels, as well as Phosphorus and Choline. Before the advent of modern protein powders like whey protein, eggs and milk were one of the staples of muscle-building diets, because they offered a concentrated form of protein and calories.
So the addition of raw eggs to your diet from a protein perspective made a lot of sense. And since you could just skip the hassle of cooking them, there was also a convenience appeal to eating or drinking raw eggs.
There also are a number of myths that have arisen around eating raw eggs, including that they cause gynecomastia(man boobs) as well as a increase sperm count or semen volume. There is no clinical evidence to support either of these claims. The connection between consumption of raw eggs and increased sperm count probably comes from the reputation of eggs for being high in amino acids, vitamins and minerals that support reproductive function. But there is no direct correlation between the two.
Are Raw Eggs Healthier Than Cooked Eggs?
Raw egg advocates argue that raw eggs are healthier than cooked eggs because cooking somehow reduces the nutritional value of the egg and protein. However, the science doesnt really support this.
There is no clinical evidence or peer-reviewed research to indicate that cooking eggs reduces the availability of protein or significantly degrades vitamin or nutrient content. While the modern raw food movement would like to paint all foods with a broad brush that says they are healthier and more natural when not cooked, there really is little scientific evidence to back this up.
In fact, certain nutrient or phytochemical levels are actually boosted or enhanced during cooking, for example the anti-oxidant lycopene thats present in tomato products. Heating tomatoes makes lycopene more available to the body, not less available.
A 1997 study published in The Journal of Nutrition found that the protein in cooked eggs was actually 40% more bio-available to the body than when uncooked. In practical terms, this means that youd have to eat seven raw eggs to absorb the amount of protein available in five cooked eggs. So cooking actuallyehances the biological value (BV) of eggs, versus degrading it.
Raw Eggs, Avidin and Biotin Deficiency
Eating raw eggs can also interfere with the absorption of a key vitamin: biotin (also known as Vitamin H.) Raw egg whites contain a protein called avidin, which binds with biotin in the gut and prevents it from being absorbed by the body. However, cooking the eggs deactivates the avidin. So long-term and regular consumption of raw egg whites may contribute to biotin deficiencies.
Raw egg advocates will argue that the biotin thats naturally available in the eggs yolk will make up for the deficiency, but they are missing the point: the avidin in the egg white has already bound with the biotin in the yolk, rendering it useless to the body.
Additionally, consuming raw egg whites will also cause avidin in the egg whites to bind in the stomach with biotin from other foods or supplements that were recently consumed, effectively blocking their absorption as well. Of course, were not talking about a raw egg here or there as part of a homemade Caesar salad dressing, but rather the regular consumption of large amounts of raw eggs or raw egg whites.
Are Raw Eggs Safe to Eat? Say Hello To Salmonella Poisoning
There is also an additional, more serious health risk associated with eating raw eggs: salmonella poisoning.
Salmonella enterica is the bacteria that causes salmonellosis, or salmonella poisoning. Infection withS. enterica can cause diarrhea, fever, vomiting and cramps. In severe cases, salmonellosis can be fatal, especially in children, the elderly or people with compromised immune systems. Some people with salmonellosis may also develop reactive arthritis later in life.
Salmonellosis is typically spread through the consumption or handling of raw or undercooked eggs,  and raw meat, poultry and dairy.  In the case of eggs, the eggs shell normally protects the yolk and egg white against contamination. However, salmonella present on the shell can infect the yolk and egg when the egg is cracked, or can permeate the interior of the egg through microscopic cracks. This is why its always a good idea to wash eggs before cracking them, as well as throwing out any eggs that do have cracks. Cooking kills the salmonella bacterium, however, even if it has contaminated the yolk or white.
Salmonella Risk of Raw Eggs May Be Lower Than Originally Thought
In the late 1990s, the U.S. government reported that as many as 20% of all U.S. chickens were contaminated with salmonella. However, by 2005, that had dropped to 16%.
A 2002 study by U.S. Department of Agriculture found that the risk of egg-borne salmonella was less than previously thought.  The USDA study found that of the 69 billion eggs produced each year in the U.S., only 2.3 million are contaminated with salmonella. Thats 1 in every 30,000 eggs. Even then, the salmonella may have not even penetrated the shell, so smart handling and additional washing of the egg can decrease that risk.
Children, the elderly and immuno-compromised should probably avoid raw eggs entirely. If you are a healthy adult, you have to make your own decisions about the occasional consumption of raw eggs in dishes or dressings. While the odds of contracting salmonella from eggs is fairly slim  1 in 30,000 there are risks, so be aware of them. Health experts advise people to store eggs in the refrigerator, use them within two weeks, cook them thoroughly, and not eat them raw.
If you are eating raw eggs daily because you think they are somehow more healthy than cooked ones, eat at your own risk, but realize theres really no reason for it. Eat em scrambled and youll do just as well. And if youve ever tried to down a glass of raw eggs, youll now they taste better cooked, anyway.
Have a Question for the Fitness Nerd? Want a Chance To Win Some Free Under Armour?
If you have a question for the Fitness Nerd on exercise, diet, nutrition or healthy eating and cooking, send your question to: askthefitnessnerd@answerfitness.com.
Each month, Ill draw a name from all of the legitimate questions I receive and the winner will recieve a $20 Under Armour eGift Card redeemable exclusively at http://www.underarmour.com/.
Whats my definition of legit? Legit means that your question is related somehow to fitness, diet, nutrition, supplements, exercise, healthy eating, etc. You get the point.
Please include your full name, city and state and e-mail address to be entered in the drawing. Only your first name, last initial and location will be posted with your question. The winner will be chosen and announced on the first day of each month. Void where prohibited, you need not be present at the drawing to win, blah, blah, blah .
Comments (47)