How Long Does Whey Protein Last For? We Take A Look At The Shelf Life of That Cannister of Whey Protein
Dear Fitness Nerd,
I have a quick question about the shelf life of whey protein powder.  My ex boyfriend left a 5lb tub of Optimum Nutrition 100% whey protein powder in our apartment, but I can't seem to find an expiration date on it. We've been broke up for about a year, so I know it's at least 12 months old. It still has the seal on it, so I think he may have bought it right before we split. Is it safe to use? And do you have any idea how long it will keep?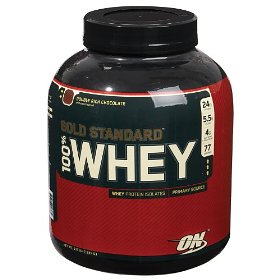 Thanks! –  Tasha (Las Vegas, NV)
How Long Does Whey Protein Last For?
Normally, whey protein powder will have an expiration date somewhere on the cannister — it's required by law.  Optimum Nutrition typically stamps the expiry date for whey on the plastic wrapper near the top of the tub.
In general, whey protein powders — especially an isolate powder or 100% whey product with a high proportion of isolates — will have a very stable shelf life.
Oxidation & Rancidity: The Real Enemy
Protein itself, when it's been defatted and "dehydrated" (as the case is with whey protein powders), is not particularly prone to rancidity. Rancidity is the result of oxidation in fats and oils, which changes their structure for the worst. This can be caused by heat, light, oxygen, or a combination of the three.
However, most 100% whey protein powders contain very little fat.  In fact, the Optimum Nutrition whey powder your boyfriend left in the apartment has only 1.5 grams of fat.  So provided it was stored in a cool location, it should have a shelf-life of at least a year — and probably closer to two years.
Most food manufacturers tend to be quite conservative with their expiration dates, because they know that people keep foods around for longer than they intend, and often don't pay much attention to the expiration dates.
Just think about that bottle of mustard in the fridge — I bet if you checked it, it's at least a year out of date.  Yet, it's probably still fine.
Whats the Real Motivation Behind Expiration Dates and Shelf-Life?
Supplement and food producers know people keep foods beyond their expiration date, so they low ball the shelf-life to take this into account.  I also helps hustle more product.
Plus, they don't want any legal issues if someone downs a scoop of four-year-old whey protein and gets the "runs" the next day because they also had a coney dog and chili-cheese fries the night before from some joint of "questionable cleanliness."
Personally, I consume a lot of whey protein powder, and keep little bags of the stuff all over the place: in my gym bag, my desk drawer at work, my laptop bag and even my luggage pockets. Some of it I know is at least two years old and I've never had any issues with it.
What About Protein and Vitamin Breakdown?
You might hear people talk about "protein breakdown" on fitness message boards when they discuss how long whey will keep, but there really isn't too much to worry about here.
Protein is actually pretty tough stuff — it's going to take more than 24 months sitting on a shelf to degrade its chemical properties.  Remember, it takes some powerful enzymes to break down proteins during digestion and merely resting in a sealed container isn't going to do this.
Yes, the manufacturer might fortify the protein powder with additional vitamins and minerals that can lose their potency with time, but even this concern is probably overstated.
A study by the U.S. Food and Drug Administration (FDA) found that many drugs — both over-the-counter and prescription — have shelf lives that far exceed the manufacturer's recommended expiration dates.  In some cases, the drugs maintain their potency for as long as 15 years.
Should I Drink The Whey?
The best approach here is to use common sense.
I'm not recommending that people throw aside caution and start downing out-of-date foods or vitamins.
However, in the case of whey protein, there is little harm in trying the protein powder. Open it up and mix some with water.  If it has any "off" flavors or smells, or causes any kind of upset stomach, then throw the stuff out and buy yourself a new tub of whey.
Whatever you decide to do, there is very little risk of any type of serious illness as result of ingesting a single-serving of "out-dated" whey powder.  In your specific case, Optimum Nutrition makes an excellent product that I use myself, and I know I have downed some stuff that is "out-of-date."
I'm still alive.
But if this is something you are really worried about, skip the guess-work and just chuck the mystery whey powder and buy some fresh stuff.  The money you save often isn't worth the mental anguish.
But that's your call.
Have a Question for the Fitness Nerd? Want a Chance To Win Some Free Under Armour?
If you have a question for the Fitness Nerd on exercise, diet, nutrition or healthy eating and cooking, send your question to: askthefitnessnerd@answerfitness.com.
Each month, I'll draw a name from all of the legitimate questions I receive and the winner will receive a $20 Under Armour eGift Card redeemable exclusively at http://www.underarmour.com/.
What's my definition of legit? Legit means that your question is related somehow to fitness, diet, nutrition, supplements, exercise, healthy eating, etc. You get the point.
Please include your full name, city and state and e-mail address to be entered in the drawing. Only your first name, last initial and location will be posted with your question. The winner will be chosen and announced on the first day of each month. Void where prohibited, you need not be present at the drawing to win, blah, blah, blah ….
Comments (13)