When should you drink a protein shake? Today we tackle the question of whats the best time to reach for that protein shake.
Dear Fitness Nerd: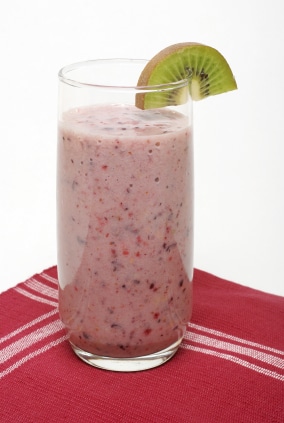 Ive read a lot about the benefits of protein shakes, especially when it comes to building muscle and becoming leaner. But Ive seen conflicting advice on when the best time is to drink protein shakes, and how often I should be consuming them. Some people say right before you workout, others say immediately following your workout, and some people seem to drink them 3-4 times a day or more. Im confused. Can you help clear this up? Thanks. Sarah M. (Albany, NY)
Sarah,
This is a great question.
The first thing to realize is that protein shakes are intended to be supplemental to your regular whole meals not replacements for whole meals. So if you view it that way, you should typically be consuming no more than 2-3 shakes a day on your workout days, and 1-2 (if any) protein shakes on your non-workout days.
In general, the two most critical times for drinking a protein shake are:
First thing in the morning
Immediately following your resistance or weight training workout.
Why first thing in the morning?
Well, when you wake up, you have essentially been in a fasted state for the past seven to eight hours. That means youve had no protein during this time and you are at risk for becoming catabolic (meaning youll start to break down muscle for fuel.) By drinking a protein shake with some simple carbs (like orange juice or a banana blended in) as soon as you wake up, you can stop this muscle breakdown dead in its tracks and put yourself back in positive nitrogen balance a fancy term that simply means you have more protein available for your body than what it is using for fuel or excreting.
The second key window of opportunity for drinking a protein shake is immediately following your resistance or weight training workout.
During this 30-60 minute post-workout window, your muscles are like sponges and take up nutrients including protein very quickly as part of the repair and recovery process. Your body also utilizes carbohydrates more efficiently during this period, due to increased insulin sensitivity, so drinking your protein shake with some simple carbs can help the body more efficient absorb amino acids and utilize them for ongoing tissue repair and growth.
What Kind of Protein Should I Be Using In These Shakes?
In both cases, a shake containing whey protein is your best bet. Whey is one of the most easily digested proteins available and is rapidly made available to the body often in as little as 20-30 minutes after being ingested.
Remember, time is of the essence in both of these scenarios, so if you are relying on forms of protein that take longer to digest for example casein (milk proteins) or soy protein by the time the amino acids become available to the body, youll have missed your window of opportunity.
It is, however, fine to combine the whey protein with a secondary form of protein like soy protein isolate, casein (milk protein) or even egg protein (albumin).
One of my favorite post workout protein shakes is skim milk combined with a scoop of chocolate whey protein and soy protein isolate and a high glycemic carb (usually something like Rice Chex which are very portable.) By combining these three forms of protein together, you basically ensure a amino drip for 2-6 hours since they digest at different rates.
Soy, whey and milk proteins also have different amino acid balances, with soy containing more glutamine, for example, which can help with recovery and lessening the symptoms of delayed onset muscle soreness (DOMS). Soy also has documented cholesterol-lowering properties and may reduce the risk of certain types of cancers.  So when you combine these different forms of protein together in your shake, you maximize the nutritional and recovery benefits of the shake.
What About Drinking a Protein Shake Before Working Out?
Protein shakes are also popular as a pre-workout meal.
In these cases, they are typically consumed about an hour before your workout and usually are mixed with either water, soy milk or skim milk and sometimes a slower-burning, low-glycemic carb like oatmeal.
While pre-workout protein shakes can help ensure that you have plenty of amino acids available during your training, they are not always necessary. You could also eat a whole food source of protein 1-2 hours in advance of your workout and do just fine. The protein shakes are primarily there for the sake of convenience, and not always for necessity.
Do I Have To Drink Protein Shakes To Be Successful in the Gym?
No. While carefully-timed protein shakes can help you fill in some of the gaps in your diet, they shouldnt be a substitute for healthy, clean, whole foods. Its possible to build a great physique and stay in fantastic shape without ever touching a protein shake but they can help, especially if you have a busy schedule that makes eating five to six times a day difficult.
If I could only drink one protein shake a day, I probably would reserve it for after my workout.
A growing body of research has demonstrated that people who drink post-workout recovery drinks that combine whey, casein and a source of simple carbohydrates put on more lean tissue than people who drink whey-only or carbohydrate-only recovery drinks. Also, because protein shakes can be very portable, they are easily mixed with water or even milk kept in a cooler in your car making them extremely convenient.
Have a Question for the Fitness Nerd? Want a Chance To Win Some Free Under Armour?
If you have a question for the Fitness Nerd on exercise, diet, nutrition or healthy eating and cooking, send your question to: askthefitnessnerd@answerfitness.com.
Each month, Ill draw a name from all of the legitimate questions I receive and the winner will recieve a $20 Under Armour eGift Card redeemable exclusively at http://www.underarmour.com/.
Whats my definition of legit? Legit means that your question is related somehow to fitness, diet, nutrition, supplements, exercise, healthy eating, etc. You get the point.
Please include your full name, city and state and e-mail address to be entered in the drawing. Only your first name, last initial and location will be posted with your question. The winner will be chosen and announced on the first day of each month. Void where prohibited, you need not be present at the drawing to win, blah, blah, blah .
Comments (35)